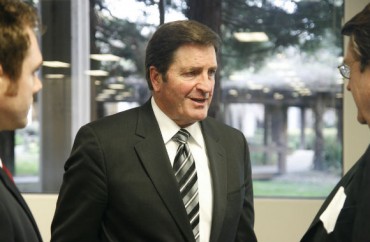 UPDATED
Other Democratic cosponsor too busy to explain her sponsorship
Advocating for due process in campus sexual-assault cases may be too controversial for congressional Democrats.
One of the two Democratic cosponsors of the Safe Campus Act, whose lead sponsor is Rep. Matt Salmon, R-Ariz., has dropped his support following queries from The College Fix.
That leaves Salmon, Republican Reps. Kay Granger and Pete Sessions of Texas, and Democratic Rep. Brenda Lawrence of Michigan as the remaining cosponsors.
The bill's provisions requiring students to report sexual-misconduct claims to police before campus administrators could get involved – in response to criticism from both accusing and accused students of how universities handle allegations – have been portrayed as anti-victim by sexual-assault prevention groups.
The national fraternity community's backing of the Safe Campus Act has become a rallying cry for those groups, who claim that rape culture is rampant within frats.
Bowing to such pressure, the North-American Interfraternity Conference (NIC) and National Panhellenic Conference separately said Friday they were withdrawing support for the bill and throwing their weight behind the Fair Campus Act, also sponsored by Rep. Sessions. That bill is similar to the Safe Campus Act but does not require reporting to police before campus authorities could investigate allegations.
In and out in less than a month
Rep. John Garamendi, D-Calif., joined as a cosponsor of the bill in October, a month after his fellow Democrat Lawrence, who herself joined on about a month after the three Republicans introduced the bill this summer.
A former lieutenant governor of California, Garamendi also served as a regent of the University of California and trustee of the California State University System, emphasizing college affordability, according to his official biography.
On Nov. 5 – two days after The Fix first called Garamendi's office to explain why he signed on, and the same day The Fix called a second time – Garamendi withdrew his sponsorship. He was a cosponsor for less than a month, did not release a statement either when he signed on or dropped out, and has yet to respond to several Fix inquiries.
Lawrence's office told The Fix last week she would "love to speak" about her sponsorship of the bill, but cautioned Lawrence's schedule would be "extremely tight through December thanks to the speakership issue finally being settled."
After receiving an outline of questions ahead of a possible phone interview, Lawrence's office said the congresswoman could not talk at all in November because her office had to "reschedule previously confirmed media interviews and other meetings" to account for a "massive backlog of hearings and votes" in Congress.
McCaskill thinks Title IX applies to campus robberies
The Safe Campus Act's primary backing has come from criminal-justice professionals, including district attorneys and defense lawyers, as well as national fraternity and sorority conferences.
They argue the bill treats sexual assault as a serious crime that deserves prosecution, not merely expulsion, while granting due-process rights to accused students otherwise at the mercy of their own campus adjudication systems. Critics have noted the police-first provision would not apply to other crimes on campus, such as physical assault or selling drugs.
Sens. Claire McCaskill, D-Mo., and Kirsten Gillibrand, D-N.Y., sponsors of the more popular Campus Accountability and Safety Act, which offers no new due-process protections to accused students, hammered home that point in a conference call with reporters last week.
"You have this anomaly they're proposing, where a young woman could be robbed at gunpoint and decide that she wanted to just try to get that person off campus and go to her university and they could take action under Title IX," McCaskill said of Safe Campus Act sponsors. "But if she was raped, she would not be able to do that unless she made the decision to go to the police."
(It's not clear whether Title IX could be used to remove a person accused of robbery. Activist group Know Your IX, whose founder testified in Congress this summer, notes that an incident must involve "sex-based discrimination.")
McCaskill and Gillibrand, both former members of sororities, emphasized that the Safe Campus Act could exacerbate so-called rape culture on campus, rather than ameliorate it.
"Their bill would worsen our understanding of a violent crime that is already drastically underreported, and their bill would reduce the school's ability to properly fight sexual assault," Gillibrand said on the call.
Their bill has 34 co-sponsors, including 12 Republicans, as well as a House version with 27 cosponsors, 11 of which are Republicans.
Lambda Chi Alpha opposes all lobbying, or not?
In addition to Garamendi's departure, Lambda Chi Alpha's decision to cut its 106-year-long ties with the North-American Interfraternity Conference (NIC) has been blamed on NIC's lobbying for the Safe Campus Act.
LCA told The Fix that its decision was not spurred specifically by the Safe Campus Act, though.
"As part of our resignation, we are against all NIC lobbying efforts," said Ted Lichtenauer, communications director for LCA.
"Unfortunately, the NIC has recently elected to pursue counterproductive tactics that we believe are antithetical to our values and we cannot support them," affirmed Fletcher McElreath, chairman of the board, in a Oct. 27 release.
The LCA's Kevin O'Neill remains the executive director of the Fraternity and Sorority Political Action Committee, which gives "financial aid to the campaigns of federal office candidates … who support the objectives of fraternity life." It celebrated its 10th anniversary this spring.
The Safe Campus Coalition, which includes the NIC, has spent $140,000 on lobbying, recruiting former Senate Majority Leader Trent Lott, R-Miss., as well as LCA's O'Neill.
UPDATE: The North-American Interfraternity Conference and National Panhellenic Conference withdrew their support for the Safe Campus Act Nov. 13. The article has been amended to reflect this.
Like The College Fix on Facebook / Follow us on Twitter
IMAGE: wirednerd/Flickr, Senator Claire McCaskill/Flickr