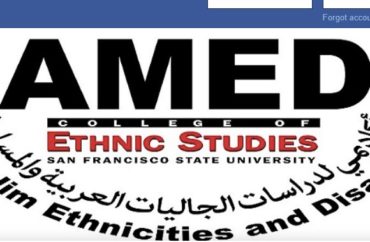 'University faculty are allowed to flagrantly misuse the name and resources of the university'
This spring, Jewish students settled their lawsuit against San Francisco State University that alleged it facilitated and encouraged anti-Semitic harassment against them.
The settlement required several concessions from the California State University campus, from financial payments to the plaintiffs to renewed affirmation to enforce protections for Jewish students under both the law and SFSU policy.
Pro-Israel groups were alarmed to find new statements on a university-affiliated Facebook page that they claim violate state law. While they weren't involved in the settlement, now they're accusing SFSU's president of invalidating their concerns on false premises.
Eighty groups signed a Tuesday letter to CSU Chancellor Timothy White and General Counsel Andrew Jones, asking them to overrule the inaction by SFSU President Lynn Mahoney and remove SFSU's affiliation from the Facebook page.
The page is maintained by Arab and Muslim Ethnicities and Diasporas Studies, known as AMED, within SFSU's College of Ethnic Studies. (It misspells "Diasporas.")
According to a hyperlinked list of correspondence among the pro-Israel groups, SFSU and the systemwide Cal State administration, they first contacted Chancellor White July 11. They wrote about the "unlawful use" of CSU's name and campuses "to promulgate anti-Zionist propaganda and promote a boycott of Israel."
Led by the AMCHA Initiative, most of the groups contacted White last year when the AMED Facebook page shared a post by its director, Prof. Rabab Abdulhadi. She denounced then-President Les Wong for "welcoming Zionists to campus" and called it a "declaration of war against Arabs, Muslims, Palestinians."
Even though White promised "corrective action," that post remains live. Abdulhadi was emboldened to use the university-affiliated Facebook page for another "egregious posting" July 3, the AMCHA-led coalition wrote July 11. The AMED director "re-posted" a banner from her own Facebook page that reads "Zionist = Racism" and "Boycott! Divest! Sanction!" from a recent anti-Israel rally she attended.
MORE: Ethnic studies department slams president for welcoming 'Zionists' to campus
The groups called it "a flagrant breach of academic conduct" for Abdulhadi "to use her administrative position and the Facebook page bearing her academic unit's logo — which includes the name 'San Francisco State University'" – to promote "religious, ethnic or political hatred," they wrote.
The director also appears to be violating California law, punishable as a misdemeanor, by using SFSU marks to promote a boycott or "political … movement, activity, or program." The only exception would be if the CSU trustees approved such use of the mark, they said.
In a July 20 response – just five days after she took over for Wong – SFSU President Mahoney denied the Facebook page was affiliated with the university or "officially sanctioned" by SFSU, ignoring the group's argument about its marks appearing on the page.
The 80 groups rebutted Mahoney in a July 25 response, citing AMED as an "official academic unit" and Abdulhadi's administrative role. AMED's Facebook page bears the same SFSU marks as the university's official Facebook page, they said.
"This matter cannot be ignored," the letter continued:
The on-going refusal to address these hateful, discriminatory and illegal postings promulgated by an official SFSU academic unit … calls into question SFSU's commitment to honoring its obligations under the recent legal settlement, and leaves us deeply concerned for the safety and well-being of Jewish and pro-Israel students, and all students, on your campus.
Mahoney reiterated Aug. 14 that the AMED page has no affiliation with the university, but added that SFSU's Senate "will review policy options that may include requiring that sites use a disclaimer affirming that the views expressed are not those of the university."
The AMCHA-led coalition went back to White this week but also included CSU's top lawyer, signaling its seriousness about potential legal violations by SFSU.
They highlighted an Aug. 11 AMED Facebook post that seeks donations to a legal fund for Abdulhadi, who is suing SFSU. The AMED director was recently featured in a Fox & Friends segment that included an AMED post previously highlighted by the AMCHA-led coalition.
MORE: Lawsuit says SFSU facilitates anti-Jewish harassment
"Like the other two AMED at SFSU postings, this one, too, apparently violates California
law" banning state employees from using "public resources for personal gain," the groups wrote to White and Jones in the Tuesday letter.
They emphasize they are not calling on CSU to shut down the AMED page or silence Abdulhadi on social media, but rather to stop them from using "official university channels to disseminate highly offensive materials and to engage in activities that appear to violate at least two California state laws":
The longer these illegal, venomous postings bearing the imprimatur of an academic program and the name of 'San Francisco State University' are permitted by President Mahoney and your own administration to remain online, and university faculty are allowed to flagrantly misuse the name and resources of the university, the more deeply concerned we become for the safety and well-being of Jewish students, and all students, at SFSU.
Asked by The College Fix if the AMCHA-led coalition is accusing SFSU of violating the March settlement, AMCHA Director Tammi Rossman-Benjamin said the university's dismissal of its concerns about AMED's use of SFSU marks "certainly seems like a violation of the spirit, if not the letter, of the legal settlement."
While clarifying that none of the 80 groups in the coalition "ever went to court about these issues," Rossman-Benjamin said the AMED page's posts seem to flout the settlement's provision on "ensuring Jewish students feel safe and welcome on campus" and its affirmation that "for many Jews, Zionism is an important part of their Jewish identity."
Read the correspondence from the groups to SFSU and CSU.
MORE: UCLA investigating professor for inviting Abdulhadi to address class
IMAGE: AMED Studies at SFSU/Facebook
Like The College Fix on Facebook / Follow us on Twitter