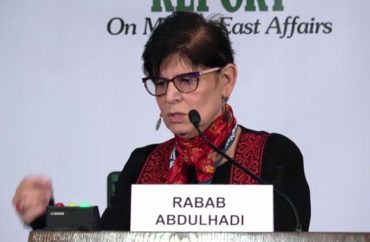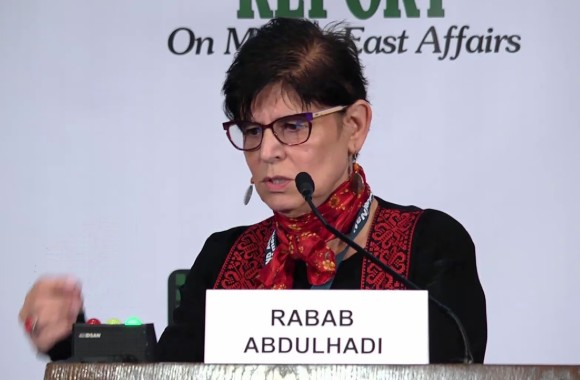 University admits 'several students' said lecture 'veered into anti-Semitism'
In response to criticisms that a guest lecturer went on a "rant" against Israel, UCLA is noting that it has many Jewish friends.
The public university emphasized its "numerous connections … with Israeli institutions" in a Tuesday letter to a pro-Israel group that had demanded an investigation of Rabab Abdulhadi's invitation into Prof. Kyeyoung Park's anthropology class.
Abdulhadi is a professor of Arab and Muslim ethnicities at San Francisco State University with a history of anti-Zionism activism at her own school. One of Park's Jewish students told Jewish Journal that Abdulhadi said students who support Israel are "white supremacists" who want to "ethnically cleanse the Middle East."
Park invited Abdulhadi to address her class titled "Constructing Race," whose course description says it considers the "development of racial categories over time and in different regions" as well as race and identity. The class had not previously broached the subject of Israel-Palestine relations, student Shayna Lavi told the Journal.
It's not clear why Park invited Abdulhadi. The UCLA professor did not respond to an email and voicemail from The College Fix.
But UCLA confirmed to The Fix that "several students" in Park's class said the May 14 lecture "went beyond legitimate criticism of the State of Israel and veered into anti-Semitism."
A statement from the administration said senior leadership "are working together to learn more" about the incident "and to find a satisfying resolution." UCLA is "committed to academic freedom as well as building an inclusive learning environment without discrimination and harassment."
Since the incident was classified as a discrimination claim, it had "been conveyed" to the university's Discrimination Prevention Office, the university told The Fix. It did not respond to a followup email seeking information about the typical length of investigations by the Discrimination Prevention Office.
MORE: Calif. taxpayers pay for SFSU professors to meet with convicted terrorists
Professor dismissed Jewish student from class after she started crying
Abdulhadi made a stink at SFSU a year ago when she slammed President Les Wong for declaring that "Zionists are welcome" at the public university. She called it a "declaration of war against Arabs, Muslims, [and] Palestinians," driven by "donor pressures and the Israeli lobby."
Wong had previously praised the General Union of Palestinian Students, which shut down a campus speech by Jerusalem's mayor. Two years later, Jewish students filed a lawsuit against Wong and the California State University trustees for allegedly facilitating decades of harassment against Jewish students.
Lavi, the Jewish student in Park's UCLA class, told the Journal that Abdulhadi defended comments by Rep. Ilhan Omar that many people considered anti-Semitic. Abdulhadi blamed Islamophobia for the criticism of the Democratic congresswoman by pro-Israel groups, and said the U.S. and Israel share the values of "colonialism and white supremacy," according to Lavi.
The student said she challenged Abdulhadi's portrayal of students like her as white supremacists during the question-and-answer portion. The SFSU professor allegedly told Lavi she was "wrong" and that she hoped Jews "will disalign themselves with white supremacy."
Park allegedly dismissed Lavi from class after she started crying. The exchange prompted another student, Viktorya Saroyan, to complain to UCLA's top diversity official Jerry Kang about the "hate speech" against Lavi by the guest lecturer.
Two days later, Lavi herself filed a complaint with the Discrimination Prevention Office. Park apologized to both students that day, they told the Journal.
Lavi (below) implied that Park should have been wary of Abdulhadi because the SFSU professor was the keynote speaker at the national Students for Justice in Palestine conference at UCLA last fall.
A liberal Democratic congressman and the Los Angeles City Council tried to stop UCLA from hosting the conference.
MORE: Ethnic studies department slams president for welcoming 'Zionists'
Professor allegedly singled out reporting student in front of entire class
Pro-Israel nonprofit StandWithUs warned UCLA in a Friday letter that it could get sued for facilitating anti-Semitic discrimination and urged it to punish Park for violating the "faculty code."
In a letter to Kang and Chancellor Gene Block, StandWithUs called Abdulhadi's lecture "not merely anti-Israel, but antisemitic," if it indeed "characterized all Zionists as white supremacists" who will use ethnic cleansing to create "a wholly Jewish world."
The organization said the incident was "part of a disturbing trend of antisemitic incidents" against Jewish and pro-Israel students and employees. "UCLA's failure to adequately address, and, where appropriate, impose disciplinary measures for discriminatory acts, creates a hostile environment for the UCLA Jewish and Israeli community."
UCLA is bound by Title VI of the Civil Rights Act of 1964 to prevent discrimination on the basis of ethnicity, but it's also bound by its own policies to sanction Park for her role in the incident, according to StandWithUs.
The organization claimed that Park appeared to mandate attendance at this lecture, even requiring students to "sign a sign-in sheet."
The professor allegedly "turned away and refused to make eye contact" with Lavi, the upset student, and refused to speak with her after class. (The letter doesn't name Lavi.) Meanwhile, Abdulhadi "continued to harass" Lavi while Park stood by for several minutes, StandWithUs wrote:
Since Abdulhadi's lecture, Park reportedly continues to bring up this incident in class, asking aloud whether this student – and only this student – is present when doing so. Park called out only this student by name for the next two classes – with over 100 students present – and then complained that Park is now part of an investigation because of this student's interaction with Abdulhadi.
MORE: University vilifies Jewish professor for criticizing Hamas
"By inviting Abdulhadi to speak and permitting an antisemitic diatribe" against her class and against Lavi after the lecture, and then berating her again in front of the class, Park (left) has committed discrimination and harassment under the faculty code, the group said.
StandWithUs received a response from UCLA Tuesday that expanded on the statement the university provided to The Fix.
It emphasizes that the Jewish newspaper Forward named UCLA "the #1 campus for Jewish life on the West Coast," and that UCLA faculty teach "thousands of students in Jewish Studies courses every year." It has "multiple Israel advocacy groups" as well.
The expanded statement also noted the many exchange programs the university has with Israel.
StandWithUs told The Fix Wednesday that it was "prepared to take further action as necessary to help ensure a safe educational environment" after receiving UCLA's response.
The incident in Park's class prompted an editorial in the Daily Bruin Tuesday that said it had turned UCLA "into a discordant frenzy."
The editorial board claimed there's a "double standard" that privileges pro-Israel speech on campus while punishing pro-Palestine speech, which "has historically been stamped out by the campus administration."
It accused the administration of perpetuating a legacy of "slanted storytelling" by "silencing confrontational dialogue."
MORE: Liberal politicians fail to block anti-Israel conference at UCLA
IMAGES: Washington Report on Middle East Affairs/YouTube, UCLA
Like The College Fix on Facebook / Follow us on Twitter