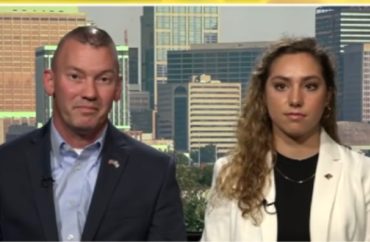 Tennessee Tech University was  within its rights to punish professors who targeted conservative peer, court rules
Sanctions will stand against two liberal professors who labeled a peer and a conservative group "racist" for their views and activism, a judge ruled.
Tennessee Technical University professors Julia Gruber and Andrew Smith were rightly punished by Provost Lori Bruce for putting up fliers that called nursing professor Andrew Donadio a "racist," federal judge Waverly Crenshaw ruled recently.
Provost Bruce wrote in her sanctions that the anonymous posters were clearly meant to "target one individual, a coworker, and a small group of students to threaten and harass and intimidate them, [and] to incite others to participate in the harassment." The posters were anonymously distributed on campus in February 2021.
Donadio (pictured, with student leader Gittle Sciolis) is involved with the campus Turning Point USA group, which Gruber and Smith also accused of racism through their fliers.
"I'm heartened for the Provost's and University's victory," Professor Donadio told The College Fix.
Donadio also noted that to his knowledge, he has "never had a spoken word with either of them." He declined further comments due to the "possibility of legal action."
The accusations came as a result of Donadio's public support for keeping the "Redskins" mascot of a local school as well as his work as the campus advisor for Turning Point USA. Donadio is also a Republican Putnam County commissioner.
MORE: Leftist screams, kicks down table during TPUSA event
Smith and Gruber were "not permitted to serve as a faculty advisor to any student organizations" nor "allowed to participate in study abroad activities," according to Judge Crenshaw's summary of the punishments. Both were also "ineligible for non-instructional faculty assignments" and "ineligible for salary increases for a year."
Neither responded to requests for comment from The Fix.
"You are on our list," the fliers said, directed at Donadio and TPUSA. An image of the poster can be seen below in a screenshot from a Fox 17 video as well as in the court ruling.
The posters also said that their "hate" and "hypocrisy" were "not welcome" on campus. National TPUSA maintains a "Professor Watchlist," which posts about professors with documented incidents of pushing liberal ideology inside and outside of the classroom.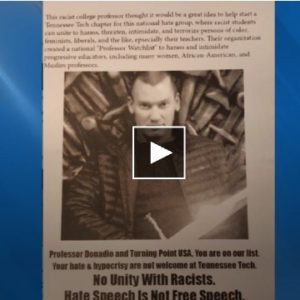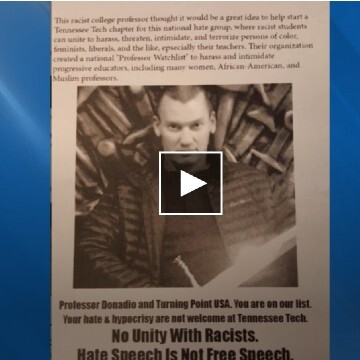 Both Smith and Gruber were subsequently added to the Professor Watchlist as a result of the targeting of the TPUSA group and Donadio.
Judge Crenshaw wrote in the ruling about how the use of the word "racist" had come to be used broadly and was losing its original meaning.
He wrote that "civility and professionalism have taken a backseat to unnecessary discord and divisiveness" in "many walks of life." Crenshaw wrote that "terms like 'racist' [are] being bandied about with reckless abandon."
Crenshaw further wrote in his ruling that the university had a responsibility to ensure a "collegial" environment.
"Even if the term has been watered down over the years, calling a colleague a racist is hardly collegial, and threatening to place him and the group he advises on a 'list' is no better," Judge Crenshaw wrote. "Moreover, like other institutions of higher learning, TTU has rules that need to be followed in order for the institution to fulfill its educational mandate and mission."
"It certainly is not too much for a university to ask that its faculty members act professionally, engage in ethical conduct, be respectful, and maintain the highest level of integrity as required by Policy 600 [in the code of conduct]," Crenshaw wrote.
MORE: University appears to ignore request to ban TPUSA club
IMAGES: Fox News/YouTube; Fox 17
Like The College Fix on Facebook / Follow us on Twitter