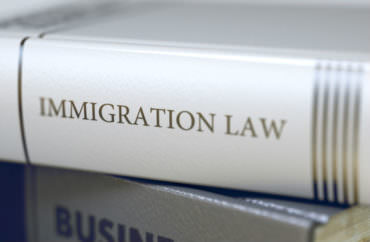 They're mostly moot, say immigration officials
Across America, many colleges and universities are declaring themselves "sanctuary campuses," committed to protecting undocumented immigrants from immigration enforcement agents. The phrase, however, appears to be largely symbolic, and according to federal officials it's barely even relevant to immigration policy.
The term "sanctuary campus" generally denotes a school's commitment to shielding illegal immigrants from Immigrations and Customs Enforcement officers. The exact definition of the term varies from school to school.
Portland State University President Wim Wiewel has declared his school a "sanctuary campus dedicated to the principles of equity, diversity and safety."
"Campus Public Safety Office does not and will not enforce federal immigration laws as is required by state law," Wiewel said, adding that the university would never reveal students' immigration unless the students were in danger, or in unless the university was "legally compelled to do so."
Similarly, the faculty council and dean's office of Occidental College have designated the school a sanctuary campus, stating that they "are committed to challenging positions and policies of President Trump and his administration that advance bigotry, discrimination, and hate, whether based on citizenship, disability, ethnicity, gender expression, gender identity, ideology, immigration status, race, religion, sexual orientation, socioeconomic status, and/or veteran status."
Dominican University, a Catholic university in Illinois, says it instituted a sanctuary campus policy for religious reasons, with a spokeswoman claiming its stance on immigration is in line with that of the Catholic Church. The school says it is "one of the first universities in the country to welcome publicly and financially support students regardless of documentation and immigration status."
Term is somewhat meaningless
Though numerous schools take pains to designate themselves as welcoming of illegal immigrants, federal immigration officials disputed the necessity of those gestures.
In an email to The College Fix, an ICE official stated: "ICE does not conduct immigration enforcement at colleges and universities. They are covered under ICE's sensitive locations policy."
ICE's website further explains the bureau's "sensitive locations policy." The rule "provides that enforcement actions at sensitive locations should generally be avoided, and require either prior approval from an appropriate supervisory official or exigent circumstances necessitating immediate action." This directive implies, in spite of what The Fix was told, that the department may indeed enforce immigration laws on campus in certain cases.
The policy is meant to ensure that individuals can "participate in activities or utilize services" at sensitive locations "without fear or hesitation," the site states.
School cites federal policy
Dominican University defended its sanctuary policy on grounds of federal law. In an email to The College Fix, campus spokeswoman Jessica MacKinnon explained the school's policy.
MacKinnon declared that Dominican University "as directed by the Family Educational Rights and Privacy Act…does not provide access to student information, including any records that identify immigration status, except as required by federal, state, and local laws, and only in the presence of a legally actionable warrant."
FERPA is a federal law which protects students' privacy regarding their academic records. Although it largely prevents anyone other than a student from obtaining access to academic records, it does allow exceptions for schools to "comply with a judicial order or lawfully issued subpoena."
MacKinnon told The Fix that the university doesn't actually know how many illegal immigrants are enrolled; the school does not ask students whether or not they are United States citizens.
In spite of its label as a sanctuary campus, Mackinnon admitted that immigrants might not be protected there. "While we cannot promise to provide refuge for undocumented immigrants, we do what we can to protect our students' right to an education, within the limits of the law," she said.
"Dominican University's Catholic mission compels us to advocate for our undocumented students and their families. Our stance is supported by the Archdiocese of Chicago and the Catholic Church and is consistent with the policies of the Villages of River Forest and Oak Park and the City of Chicago," she added.
Officials at Occidental and Portland State did not respond to requests for comment on their sanctuary policies.
MORE: Undocumented students enjoy lower tuition rates, other perks
MORE: How can illegal immigrants attend college in the U.S.? 
IMAGE: Tashatuvango / Shutterstock.com
Like The College Fix on Facebook / Follow us on Twitter