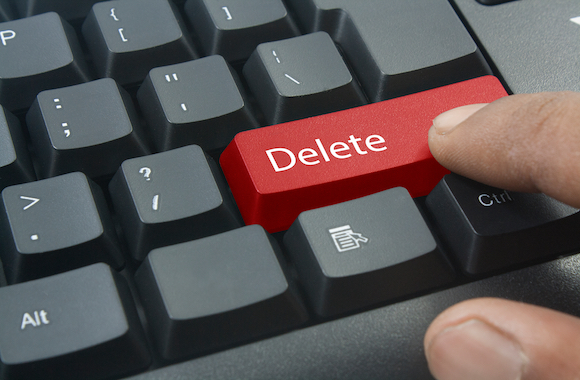 'We may have been unclear with our language'
A university recently altered the description for an upcoming whiteness workshop on its campus shortly after The College Fix asked about language used in the event description.
According to the University of Iowa's diversity website, the upcoming workshop, titled "Understanding Your Whiteness to Become Better Allies," is being hosted by the "Iowa Chief Diversity Office, Diversity Resources, and several campus allies."
"This interactive workshop is for people who want to learn about and discuss the inherent privileges that come with being White. This can be the first step to eliminating false diversity and assuming greater personal responsibility for eliminating racism," the event's original description read.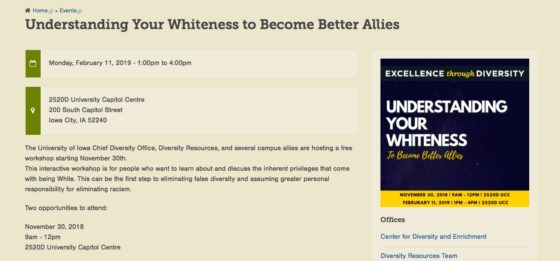 The College Fix contacted several Chief Diversity Office administrators to inquire about the term "false diversity." After several days, Diversity Resources Director Brianna Marcelo finally responded with a statement.
"After receiving feedback from some campus partners, we realized we may have been unclear with our language and have since updated the description to more directly align with the workshop's learning goals," Marcelo said. The event description now tells students that the workshop "can be the first step for self-reflection and assuming greater responsibility for eliminating racism." The term "false diversity" has been deleted from the event with no explanation on the website.
No officials from the university ever responded to clarify what was meant by "false diversity."
The three-hour event is scheduled for Nov. 30, with another workshop taking place on Feb. 11 of next year.
According to the school's diversity page, the university offers numerous opportunities for students to get involved in diversity efforts. "Sign up for a workshop or class and advance your understanding of other cultures. Join a committee or organization that focuses on diversity. Attend a diversity-related performance or lecture. Become a conversation partner with someone from another country," the site tells students.
The school also offers students "listening sessions," the purposes of which are to "provide an opportunity for students to reflect on the experiences reported in the survey and to gather stakeholder input regarding specific strategies for improving our campus climate."
The results of those sessions will be included in a report of the university's campus climate due out next semester.
MORE: University scrubs 'white consciousness' events after College Fix report
MORE: Professor deletes 'frat boy' tweet, locks account after College Fix inquiry
IMAGE: hafizi / Shutterstock.com
Like The College Fix on Facebook / Follow us on Twitter