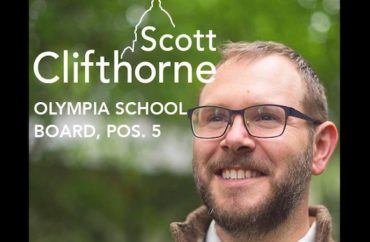 The director of Washington State's Olympia School District Board recently discussed cuts in elementary school-level music programs due to their "white supremacist" nature.
According to KTTH-770, the district is dealing with a budget deficit of over $11 million and music classes for 4th and 5th graders have been considered for termination.
At an April 17 board meeting (video below), Scott Clifthorne said elementary-level music classes "aren't offered equitably" in district schools as some students occasionally have to miss their "core" classes in order to play music.
As conservative pundit Jason Rantz notes, instead of dealing with this "reasonable concern," Clifthorne followed up with a diatribe about white supremacy.
"We also know that there are other folks in the community that experience things like a tradition of excellence as exclusionary," Clifthorne said. "But that's not unique to elementary instrumental music. We're a school district that lives in … is entrenched in … is surrounded by white supremacy culture. And that's a real thing."
There's nothing about strings or wind instrumental music that is intrinsically white supremacist. However, the ways in which it is and the ways in which all of our institutions, not just schools — local government, state government, churches, or neighborhoods — inculcate and allow white supremacy culture to continue to be propagated and cause significant institutional violence are things that we have to think about carefully as a community. And I think that we have to do that interrogation. And we have to address the ways in which it creates challenges for administering the educational day for our elementary learners while we retain the program.
MORE: Music professor calls his black dad racist for liking Bach
According to Ballotpedia.org, Clifthorne is a small business owner and served as president of an elementary school PTA. He's been on the Olympia Board since 2017 after beating an incumbent.
Clifthorne is against charter schools, "is especially passionate about creating equity strategies," and believes students should only be expelled from school if they're caught with a weapon. "[But] we should support expelled students with intensive, 1:1 interventions with skilled social workers and other community-based supports," he said.
When asked about critical race theory in October 2021, Clifthorne said that "systemic racism is an undeniable reality in our schools, and many other institutions."
He added: "These structural biases aren't going to resolve themselves. Th[is] will require a conscious effort to improve our levels of cultural competence as a system. That is work I've been doing for the last four years, and work I'm happy to continue doing."
In 2022, the Olympia Board filled a vacancy with anti-police activist Talauna Reed who had referred to law enforcement as "pigs," said "f*** the police" and told a crowd to "tear everything up in this f***ing city."
MORE: Smith College whistleblower, told not to rap because she's white, finally performs her music on iconic NYC stage
IMAGE: Scott Clifthorne / Facebook screencap
Like The College Fix on Facebook / Follow us on Twitter