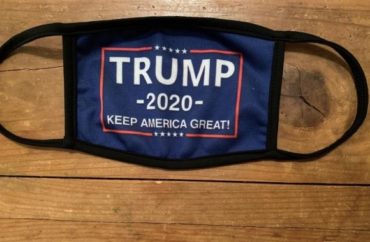 Administrators no longer allowed to regulate clothing based on their feelings
The best place to show your support for President Trump as a K-12 student may be in Mississippi's Rankin County School District.
Following a legal warning about allegedly forcing a student to remove a pro-Trump face mask, and a "temporary adjustment" to its face-mask policy in response, the district has now approved a host of revisions to the dress code to remove wide-ranging administrative discretion over student expression.
The Alliance Defending Freedom provided The College Fix the minutes of the November Board of Education meeting where revisions to the "Smart Restart" plan and dress code were approved. They took effect Wednesday with the board's adoption of the November minutes, the alliance said.
The old face-mask rules banned "writing" unless it was "a school/college mascot name" or a monogram on the mask, and otherwise referred to the dress code, which banned "inappropriate designs, pictures, symbols, slogans, offensive language or political statements." The revised Smart Restart plan now simply refers to the revised dress code.
The old dress code banned "headgear" such as hats "that may interfere with the educational process." Now it simply bans all headgear that's not medically prescribed.
The administration was previously authorized to regulate a student's dress and personal appearance if it "feels" they are "disruptive, inappropriate," or create "a possible disruption" to the educational environment. Now the administration must have "evidence" of these conditions, not just subjective feelings.
MORE: Letter accuses district of viewpoint discrimination in mask enforcement
Two new paragraphs not only promise viewpoint neutrality but also an appeals process for students whose clothing is targeted:
If the message of a piece of clothing or mask is at issue, the principal shall not discipline the student based on the viewpoint expressed absent actual evidence of disruption, or evidence-based anticipation of disruption to the educational environment.

If a student disciplined under this policy believes their clothing expression has been targeted based on its viewpoint, then the student may appeal a decision to the school board to be heard by the school board or its designated hearing officer at or before the next meeting of the school board.
The alliance said an assistant principal ordered student David Ferguson to remove his pro-Trump mask in late September because it was "political," inventing a condition that was not in the rules. Yet the school district apparently allowed students and teachers to wear apparel with popular progressive messages – even in favor of Trump's rival, Democratic nominee Joe Biden.
"The Rankin County Board of Education demonstrated that it values the First Amendment by quickly addressing this issue and voting unanimously to change the policy so that students will no longer be censored as David Ferguson was," Caleb Dalton, legal counsel for the alliance, said in its press release.
"Other students within the school district have worn masks and shirts with political messages, including symbols supporting other political candidates, the LGBTQ community, and the words 'Black Lives Matter,'" he said. "Now David and other students will have an equal opportunity to peacefully express their beliefs."
MORE: School district revises policy to allow 'writing' after pro-Trump mask flap
IMAGE: Alliance Defending Freedom
Like The College Fix on Facebook / Follow us on Twitter