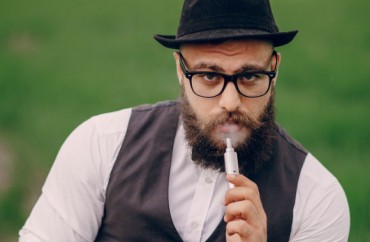 'Their greed is not only reprehensible, it is unlawful,' said one attorney general, of Juul
Over the past two years, a huge number of school districts across the country have joined or threatened to join lawsuits against the big e-cigarette manufacturers, chiefly Juul, for allegedly marketing and selling their wares to minors.
These suits struck me as somewhat frivolous, for three reasons:
1. Most commercial speech does enjoy limited constitutional speech protections, so long as it is not fraudulent
Even shows or broadcasts that are meant for children are watched by a lot of other people who are meant to enjoy these products, including their parents. So that seemed a beatable rap.
2. Minors cannot legally buy these products
Kids need fake IDs or go-betweens or cashiers who look the other way to buy vaping liquids in various forms. But those scofflaws don't have deep pockets. Juul had a market valuation of about $10 billion as of last October, the Wall Street Journal reported.
3. Vaping is much better for folks of all ages than smoking
This matters when districts press claims of damages wrought by vaping companies. Is vaping bad for you? Compared to what?
Vaping is not great for vapers' bodies, of course. But, absent contamination, it does a whole lot less harm than smoking.
Vaping instead of smoking keeps people from inhaling smoke directly into their lungs and it isolates a substance in cigarettes, tobacco, that isn't nearly as bad for you as many of the other chemicals packed in those paper cylinders. In fact, many people use vaping as a halfway house to quit smoking.
I thought: You bring this to trial, there's a reasonable chance Big Vaping beats the rap.
And I was so naive.
On Monday, June 28, Juul settled with the state of North Carolina for $40 million and promises to change its advertising strategy.
Gregory Conley, president of the vaping advocacy group the American Vaping Association, saw something like this coming.
When I wrote to Conley in May to ask about the vaping lawsuits, he predicted that while there was "no evidence that public school districts have incurred any significant financial costs because of the now rapidly declining fad of Juul usage among underage youth," settlements were the very likely outcome.
"School districts are understandably always looking for new funding sources and city and county attorneys with future political aspirations often want nothing more than to attach their names to high profile cases," Conley said. "Chances are that Juul will attempt to settle these cases long before trial dates are reached. As such, even though the purity of their motives can be questioned, ultimately it seems like these cases have very little in the way of potential downsides for the plaintiffs."
Conley is pro-vaping, not pro-Juul, and as such he stressed that "we're not a trade group or an industry spokesgroup."
North Carolina Democratic Attorney General Josh Stein, playing the part of Conley's aspiring politician to a T, said in a press conference Monday, "Juul sparked and spread a disease – the disease of nicotine addiction. They did it to teenagers across north Carolina and this country simply to make money. Their greed is not only reprehensible, it is unlawful. And that is why I took action."
Now that the biggest vaping company has signaled a willingness to settle, expect school districts that have already joined the pile-on to consider settling as well. There were over 100 of them as of last July, reported the National Law Review, and many districts have joined in since. These school districts or their states could likely get money much faster than waiting on a class action outcome.
Since Conley seemed to be onto something last time with that settlement business, I called him up again for comment Monday.
"Beyond the $40 million fine, what Juul agreed to is very much already in line with what the company has promised to do anyway," Conley said.
In fact, Conley said that "multidistrict litigation" is a bigger concern of Juul's than this state lawsuit and that the company is very much in a dealmaking mood, to clear the legal vapors and get back to business as usual.
He argued that "prohibitionists" have a very different idea in mind, and pointed to the "master settlement agreement" of cigarette companies in the 1990s.
The Big Tobacco companies entered into that agreement willingly, but then states passed laws to rope in the small companies that never admitted they'd done anything wrong or illegal, Conley said. He hopes that punitive legislative history does not repeat itself with vaping.
MORE: Smoking, Chewing, Even 'Vaping' Banned At University Of Arizona Next Month
IMAGE: Shutterstock
Like The College Fix on Facebook / Follow us on Twitter