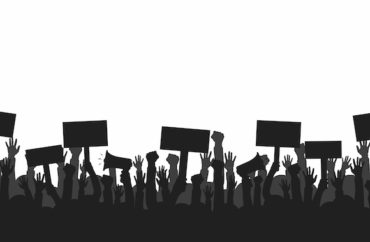 Campus rights group slams policy as 'unconstitutional'
A public university says it is undertaking a "review" of its student handbook after being questioned on a restrictive campus protest rule. A campus rights organization, meanwhile, has called the policy "unconstitutional."
Tennessee State University's protest policy comes from its student handbook, which, according to the manual, "represents the official statement of policy rules and regulations that direct student life at Tennessee State University."
The handbook sets forth a highly restrictive vision of student protest rights, stating that student dissent, when "taking the form of demonstrations, marching, or sit-in activities," will not be permitted "during university-wide events such as athletic contests, convocations, special lectures, assemblies or at the president's home and surrounding grounds." The school also mandates that any form of dissent must be "registered in advance with the Vice President of Student Affairs."
The College Fix reached out via email to the school for comment on the policy. Campus spokesman Lucas Johnson first responded by asking if The Fix's reporter was a Tennessee citizen and if an "Open Records Act request" was being lodged. "[O]nly Tennessee citizens are entitled to receive copies of records requested under the Tennessee Open Records Act," Johnson stated.
The Fix informed Johnson that no Open Records Act request was being made. Johnson subsequently responded: "Tennessee State University continues to strive, through its policies and the application of those policies, to protect the first amendment rights of its students and other campus visitors. TSU is currently undergoing a review of its Student Handbook, a review that will likely result in revisions to our Handbook."
Johnson did not respond to a followup email asking what revisions the handbook might undergo.
The campus watchdog group the Foundation for Individual Rights in Education last updated their file on Tennessee State University's policy in January of 2019. FIRE gave the university a "red light" rating, meaning the school has "at least one policy that both clearly and substantially restricts freedom of speech." The group specifically cited the school's protest policy as part of its red light rating.
Azhar Majeed, the vice president for policy reform at FIRE, said via email that FIRE has not been in contact with officials at Tennessee State University about rectifying the policy, but that the organization believes the rule to be constitutionally illegal.
"FIRE considers the implementation of this policy to be unconstitutional, particularly in that it sets forth a 'prescribed form' of 'dissent,' which is being registered in advance with the Vice President of Student Affairs. In other words, the university does not wish to allow any spontaneous, unregistered expressive activity, such as protest and demonstration, on its campus," Majeed said.
He added that the rule is further problematic due to its extensive bans on certain types of protests at certain times. "The policy threatens First Amendment rights more broadly because it prohibits 'group dissent,' including demonstrations and marching, 'during university-wide events.' This is a broad, and seemingly unnecessary, restriction," he said.
This isn't the first time Tennessee State University has been in the news for its restrictive free speech policies. The College Fix previously reported that "whistling in a suggestive manner" could be considered sexual harassment and grounds for possible expulsion from the Nashville university.
The policy named other actions that could be considered harassment, everything from "offensive remarks about a person's age," and "suggestive or insulting sounds," to "humor and jokes about sex that denigrate men or women."
MORE: 'Whistling' considered sexual harassment under university policy
MORE: School mulling a ban on protest camps under decades-old rule
IMAGE: Yevgenij_D / Shutterstock.com
Like The College Fix on Facebook / Follow us on Twitter