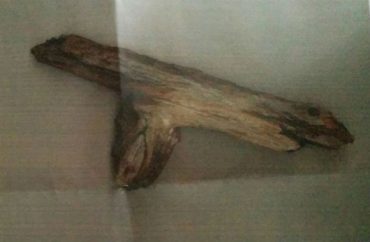 Make-believe playtime is not allowed at North Carolina's Hoke County Schools.
For the threatening act of picking up a stick that resembled a gun and using it to defend her magical kingdom from intruders, 5-year-old Caitlin Miller was suspended by her elementary school, WTVD reports:
Hoke County Schools said Caitlin posed a threat to other students when she made a shooting motion, thus violating policy 4331.

"Hoke County Schools will not tolerate assaults, threats or harassment from any student. Any student engaging in such behavior will be removed from the classroom or school environment for as long as is necessary to provide a safe and orderly environment for learning," the school system says.
5 yr old Caitlin Miller returns home after her first day back from suspension over playing with stick that looked like a gun. #abc11 pic.twitter.com/DfzrY0zHEO

— Morgan Norwood (@MorganABC11) March 28, 2017
Her mother Brandy posted the letter she received from J.W. McLauchlin Elementary School, describing the suspension as a result of her daughter "Turning a stick into a gun and threating [sic] to shoot and kill other students."
Brandy Miller's Facebook friends encouraged her to shame the school in the news media; one friend advised her to tell the school "they are suspended for not being able to spell."
She wants an apology from the school for her daughter, who felt "alienated by her friends and teachers as a result of the suspension," according to WTVD.
Caitlin's father serves in the Army, according to The Washington Post, so presumably Caitlin has a more mature understanding of guns than the typical 5-year-old.
And she is far from the first student to be suspended for playtime activity with the slightest whiff of violence, the Post says:
In May, a kindergarten student was suspended for bringing a toy bubble-blowing gun to a school in the Denver suburbs. In November, a South Florida middle school student was suspended for six days for using a child butter knife she had brought to school to cut a peach at lunchtime. 

Other suspensions simply involved gestures and imaginary weapons. In 2013, a 7-year-old boy in Maryland was suspended for two days for chewing a breakfast pastry into the shape of a gun and saying, "Bang, bang." That same year, a sixth-grader in Calvert County was suspended for forming his hand into a gun on his bus ride to school.
The Millers are now considering homeschooling Caitlin.
Read Brandy Miller's updates, the WTVD report and Post story.
MORE: Middler schooler faces criminal charge for cutting a peach
Like The College Fix on Facebook / Follow us on Twitter
IMAGE: Brandy Miller/Facebook