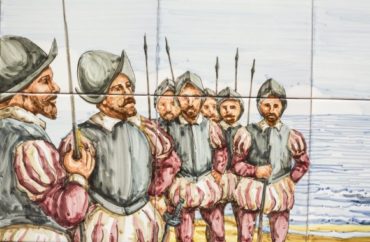 Schools and colleges in New Mexico are under pressure from "a new generation" of Native American and Latino activists to drop the image of the Spanish conquistador.
The conquistador, activists say, represents "colonialism and indigenous genocide." They want its image removed from state seals and monikers of the conquerors stripped from street names.
According to the Associated Press, Santa Fe's public schools will limit visits by "conquistador re-enactors," and the University of New Mexico is looking to redesign its official seal after Native American protests.
Native activist Elena Ortiz said more needs to be done: "We still have [conquistador] Don Diego [de Vargas] parading around. This symbol of genocide should not be allowed in public schools."
The demonstrations and protests have enflamed racial tensions between some New Mexico Latinos – who call themselves Hispanos – and Native American tribes, who both say the battle is over how to tell the region's history.

Ralph Arellanes, chairman of the Hispano Round Table of New Mexico, said he understands the desire of the state's many Native American tribes to tell their stories. But he called the efforts to remove the conquistador attempts to erase history.

"It's a complicated history that needs to be celebrated. If it weren't for Hispanos, who came to New Mexico first, most Native American tribes would have been wiped out," Arellanes said. "The conquistador brought people together."

Spanish explorers were the first Europeans to set foot in the present-day American Southwest, including Texas, California, Arizona and Colorado.

While each state has a few monuments, streets and cities named after Spanish conquistadors, in New Mexico the conquistador has played a unique role in the celebration of Hispanic culture in the state as many continue to identify as Spanish, or descendants of the first Spanish explorers. Latinos in other southwestern states often identify as Mexican American or mestizo, a mixture of Spanish and Native American ancestry.
Activists succeeded in getting Santa Fe to ditch "La Entrada," an annual celebration of de Vargas' capture of the town for the Spanish crown.
University of New Mexico American Studies Professor Nick Estes said activists want "state leaders to stop lionizing the region's violent colonial past and recognize the history of Native Americans," and added this debate is worse than that regarding the Confederate flag.
"At least there's an acknowledgment of this country's legacy with slavery," Estes said. "This country has not acknowledged its legacy with indigenous genocide."
Estes' colleague Jennifer Denetdale said the conquistador has a "history is of rape, murder, torture, [and] enslavement of indigenous people" and symbolizes "efforts to continually eliminate" them.
MORE: Maine bans all Native American mascots in public schools
MORE: Cal. State-Long Beach ditches 'Prospector Pete' because 'racism, genocide'
IMAGE: Juan Aunion / Shutterstock.com
Like The College Fix on Facebook / Follow us on Twitter