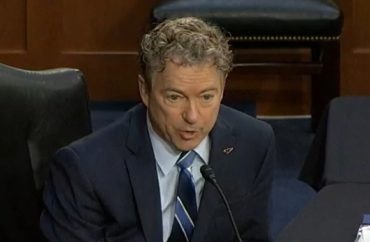 Nominee wants kids to be able to bypass parents and take powerful hormonal drugs
Kentucky Republican Senator Rand Paul criticized President Joe Biden's nominee for assistant secretary of Health and Human Services for supporting the use of puberty blockers in children.
Paul compared puberty blockers to genital mutilation and said the government should not be able to override parents who want to stop their children from taking the drugs.
"American culture is now normalizing the idea that minors can be given hormones to prevent their biological development of their secondary sexual characteristics," Paul said during Thursday's committee hearing for Rachel Levine.
Levine, who identifies as transgender, has stated numerous times support for children taking medication to stop puberty. Levine is a pediatrician by training and is also the secretary of Pennsylvania's health department. The Kentucky Republican is also a medical doctor.
Levine twice did not directly answer the Republican's question. Instead, Levine said if confirmed, HHS would work with Paul's office on the issue.
"Transgender medicine is a very complex and nuanced field," Levine said. "I will look forward to working with you" on "standards of care for transgender medicine," Levine said.
"I'm alarmed that you won't say with certainty that minors should not have the ability to make the decision to take hormones that will affect them for the rest of their lives," the senator said.
Levine again repeated that transgender medicine is "complex and nuanced."
"The question is a very specific one," Paul said. "Should minors be making these momentous decisions?"
Research shows harms of children switching genders
Wall Street Journalist Abigail Shrier researched the topic of children transitioning for her recent book, "Irreversible Damage: The Transgender Craze Seducing Our Daughters."
She said that "internet influencers" have convinced many teens to transition to the other gender.
"Parents use the word 'cult' because there are many influences that encourage you to cut off your parents, especially those found online," Shrier told The College Fix.
"The internet influencers very often give the advice that if you're parents aren't agreeing with your self diagnosis — and even some therapists say this — you should cut them off," Shrier said.
MORE: Catholic university professor under fire for criticizing Levine's appointment
IMAGE: C-SPAN
Like The College Fix on Facebook / Follow us on Twitter