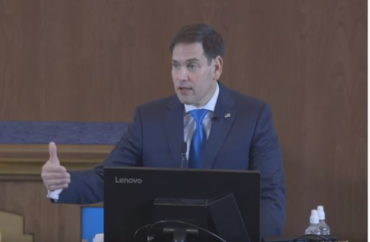 Republican senator cites Catholic teaching as he advances notion capitalism can and should prioritize the worker
WASHINGTON — For Republican Senator Marco Rubio, his failed bid for the Oval Office shattered an idealistic perspective of America he had maintained since childhood.
Rubio, the son of Cuban immigrants, had spent his life believing in American exceptionalism and the American dream, he said in a talk at the Catholic University of America on Tuesday.
But his failed White House bid in 2016 left him with the realization that not all Americans feel the American dream is possible for them, he said.
Many feel left behind, cheated, and ignored, trapped in an economy that has placed profits at the expense of American workers simply trying to provide for their families, he said.
"We have been left with an economic and societal growth that no one is happy with," the Florida Republican told to the packed auditorium at CUA. "It is weakening our families."
His lecture, titled "Human Dignity and the Purpose of Capitalism," was an expansion of an op-ed the Florida senator wrote in August for the conservative magazine First Things titled "What Economics is for."
America needs "common good capitalism," Rubio said Tuesday. Without it, families fall apart, communities crumble, and no one is left to lift each other up for the betterment of the community and the individual, he said.
Many Republicans push free market principles, but have largely abandoned the rights of workers, expecting the market to correct itself, Rubio said.
"We need an economy where workers and employers are partners, not competitors," the senator said, adding that America has been at its most secure and prosperous in history when that has happened, pointing to the post World War II economy as an example.
"We have drifted very far from that economy," he said. "We have neglected the rights of workers."
The main inspiration for Rubio's speech was a document that's over 100 years old, written by Pope Leo XIII titled "Rerum Novarum" or "Rights and Duties of Capital and Labor," the main document of Catholic social teaching on human labor.
For Rubio, a devout Catholic, he said this document bore profound insight for its time but is no less relevant today, when "finance overwhelms the economy."
The purpose of a society, he said, is for the betterment of mankind, the common good, and the market should serve that.
"We are a nation incapable of identifying our common good," Rubio lamented, pointing to the political divide that has seen people ostracize those who disagree with them.
On a public policy level, Rubio touted his efforts in the U.S. Senate that would incentivize businesses to invest in American workers and increase their wages instead of outsourcing jobs to China and other countries.
"The market will not solve this alone," Rubio said, touting his support for paid family leave, as well as the need for tax code revisions that incentivize companies to invest more in its workers, noting that it is currently written to benefit shareholders.
The Florida senator called out China on multiple occasions, pointing out its threat to American prosperity and way of life and the need for protecting certain manufacturing industries from outsourcing as a matter of national security, especially the cultivation of rare earth metals.
These metals, Rubio said, are vital to the creation of electronics, especially as phone networks transition from 4G signals to 5G, which has hit major roadblocks as the major international provider of 5G technology, Huawei, has been sanctioned from business in the U.S. due to its ties to the Chinese government and concerns the technology could be used to spy on Americans.
By keeping these jobs in America, it helps maintain a stable, dignified labor opportunity for the American worker, as well as ensuring that national security interests are protected in the creation of new technology and other manufacturing.
"We have the opportunity to create an America greater than the one before," the senator said.
MORE: Another university announces closure of Confucius Institute
IMAGE: YouTube screenshot
Like The College Fix on Facebook / Follow us on Twitter