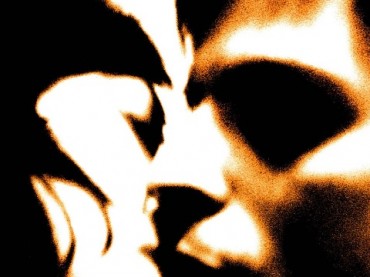 What do you get when you allocate nearly $100,000 annually from taxpayer, tuition and student-fee funded coffers to a campus organization dedicated to sexual health?
I'm glad you asked. Let's take a look.
Sex Out Loud is a peer-to-peer sexual health resource program at the publicly funded University of Wisconsin-Madison, and its leaders spend their generous annual budget on a variety of "educational" endeavors.
Why, just last week, it held back-to-back symposiums to teach students how to have an orgasm. Granted, I'm pretty sure guys have that mastered by age 15, yet I'll grant some women might need a bit more help. It's trickier for us. But I digress.
Last Thursday, April 24, Sex Out Loud hosted its "Advanced Pleasure Workshop" in a student activity center room. Not the most romantic setting, but hey – you make do.
Despite my best efforts to get an enterprising student reporter to attend this event and report back to The College Fix what constitutes "advanced pleasure" – alas, I struck out. But here's the way the event was described by Sex Out Loud promoters: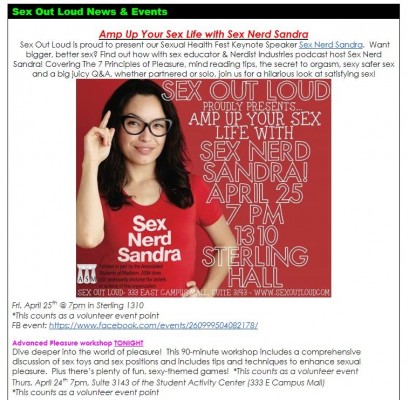 Dive deeper into the world of pleasure! This 90-minute workshop includes a comprehensive discussion of sex toys and sex positions and includes tips and techniques to enhance sexual pleasure. Plus there's plenty of fun, sexy-themed games!
Well, there's a $15,000-a-year college education well spent. I'm sure the good folks of Wisconsin appreciate that their kids are learning how to master ben wa balls and doggie style on the taxpayer's dime. Sure – they can learn this stuff for free on the internet or the old-school trial by error method without their esteemed university's help, but would they really be getting the world class education they deserve?
Moving right along, on Friday, April 25, Sex Out Loud brought in "Sex Nerd Sandra" – perhaps for the more faint of heart students who couldn't really sit comfortably through "a comprehensive discussion of sex toys and sex positions."
But hey – Sex Nerd Sandra – who works at the Los Angeles-based Pleasure Chest store – brought her own goodies to the table.
"Want bigger, better sex?" asks the Sex Out Loud invite on Facebook. "Find out how with sex educator & Nerdist Industries podcast host Sex Nerd Sandra! Covering The 7 Principles of Pleasure, mind reading tips, the secret to orgasm, sexy safer sex and a big juicy Q&A, whether partnered… or solo, join us for a hilarious look at satisfying sex!"
Lest you think Sex Out Loud is solely orgasms and vibrators and sex positions – think again! Its blog is filled with the latest cutting-edge commentary college kids require.
As recently as April 17, its editors offered a post titled "Own It: The Queef."
To get the giggles out of our systems, let's just throw the word out there a few times. QUEEF QUEEF QUEEF. Ok sweet, so let's start with the basics, what is a queef?  Well, when inserting an object into a vagina, the rush of air that comes along with the insertion is forced to exit. …   The air that goes into the vagina cannot just disappear, and so it comes out, often resulting in an audible squeak commonly referred to as a "vaginal fart" or a queef. … At the end of the day, the queef is something that cannot always be helped.  That said, it does not have to be something to be embarrassed about.  If you find yourself in a situation where you are having the hottest sex of your life and a queef rears its ugly head during it, keep on going and laugh it off.
What would University of Wisconsin-Madison students do without this vital queef reassurance? But wait – there's more!
Other recent blog posts include: "A Guide To Casual Sex Minus the Gender Roles" (because who needs those?); "How Do I Last Longer: A Guide To Premature Ejaculation," and a step-by-step graphic tutorial on "edging" – which is a not-so-fancy term to describe how to masturbate longer.
Last October, the Sex Out Loud folks got really creative, with a graphic, pro-BDSM blog post advising students how to have a kinky-sex-filled Halloween. Some of the advice included:
"King Tut-in' it up" – "Time to start exploring the world of BDSM (Bondage, Discipline, Dominance, Submission, Sadism. Masochism!"; "Reenact your favorite horror movies"; and "Get some candy in there" – "Perhaps we … are sadists who enjoy tying down our partner(s) and making them see, smell and even taste a little itty bit of our favorite chocolate bar, but not get it or being into masochism and get a candy as a treat after a flogging."
Geez, normally a simple "trick or treat" will do.
In addition to the blog, the program doles out free condoms, and offers sexual health counseling and advising.
And to be fair, Sex Out Loud programming tackles some serious subjects, too.
Tomorrow night it's set to host "The Abortion Diaries" in conjunction with NARAL Pro-Choice WI and Choice Out Loud. The screening will be followed by a panel discussion about "the stigma and silence surrounding abortion." No word on whether Prolife Wisconsin got an invite.
And don't miss Sex Out Loud's May 2 "Sexual Health Symposium."
"The symposium will feature speakers from the Gender and Women Studies Department as well as UW-Alumni working in the health care profession," organizers state. "BONUS: Sex Jeopardy, special performances from the cast of Spring Awakening, and free Ian's Pizza!"
Because sex or no sex, nothing gets college kids in the door like free pizza.
Jennifer Kabbany is associate editor of The College Fix.
Like The College Fix on Facebook / Follow us on Twitter
IMAGES: Main, PTR, Flickr; Inside – Sex Out Loud