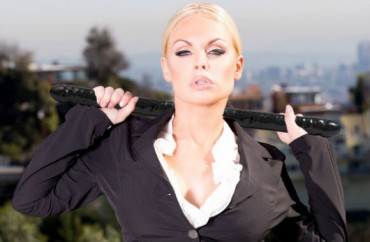 White dildos are 'sensual and erotic'
The difference between black and white dildos is subject matter for courses on sexuality at colleges including San Francisco State, De Anza College and Portland State University.
They include research in which black and white images of the phallus, and its packaging, are contrasted to explore the notion that differences in the two perpetuate unfair and incorrect racist stereotypes of African Americans.
As originally reported by Socawlege, the lesson centers on research titled "Little White Lies: Race, Dildos, and American Culture" by Allison Kavanagh Alavi. The research, first published in 2001, "compares black and white dildos," according to a summary of the report by the Fact or Fixtion blog.
"Alavi conducted a content analysis study to either confirm or disprove her hypothesis that black men's sexuality is represented as hyper sexual and sexually aggressive in the adult novelty industry. What she found is a clearly racist discourse that presents black penises and in turn black men's sexuality as dangerous and even sinful compared to the white dildos that were portrayed as sensual and erotic," the blog states.
The blog's author further explains "what is happening in this instance is that a stereotype based upon a part of black men's anatomy is being used to socially construct a negative and general idea about quite a large group of people. This stereotype of hypersexual and aggressive black men is apparent in two particular instances in this paper: the marketing of black dildos and black dildos themselves."
Visit the sex shop to get hands-on with racism
Professor Amy Sueyoshi has used Alavi's research in her course on human sexuality at San Francisco State, although Sueyoshi told The College Fix in a recent email that she hasn't "taught the course in over six years."
Other scholars who have relied on the research include Professor Randy Claros of De Anza College, a community college in California.
Claros told The Fix in an e-mail: "Yes I have used this article in my human sexuality course in the past." He added that he came across the article while taking a human sexualities class at San Francisco State, although it's not clear if it was a class taught by Sueyoshi.
Claros' human sexuality class syllabus also includes debates on issues such as abortion and the legality of prostitution. Visiting an adult sex shop is also part of the coursework, according to the syllabus. Students seeking extra credit can also attend a workshop at the "Center for Sex and Culture" or an LGBT museum.
Another professor who uses this article for a gender and sexualities class is Portland State University Professor Matthew Geraths.
He told The Fix, "I use it to teach students how to do a discourse analysis in my sexualities class; students use this article to go out and make their own observations of sex shops."
Like The College Fix on Facebook / Follow us on Twitter
IMAGE: JulesJordanVideo.com