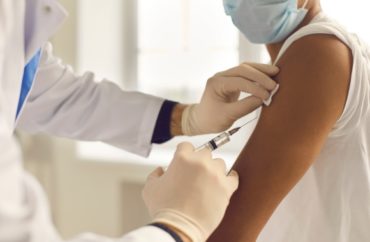 "Should colleges be held liable for damages caused by COVID-19 vaccine mandates?"
That was the question posed Jan. 4 by Twitter user @healthbyjames, and it quickly went viral, amassing more than 20,000 likes and more than 1,500 responses.
It came a day before Tufts University announced it would no longer require the bivalent COVID booster.
"Finally a prominent American university takes a step toward sanity," Jay Bhattacharya, a professor in Stanford's School of Medicine, stated regarding the news.
The question of whether and why COVID vaccines or boosters should be mandated at colleges remains a pressing topic of concern for many.
Good news from Tufts University. It has decided to stop requiring the bivalent covid booster. Tufts leaders mandated it despite no demonstrated ability to stop transmission.

Finally a prominent American university takes a step toward sanity. pic.twitter.com/BBEeSiX0ux

— Jay Bhattacharya (@DrJBhattacharya) January 5, 2023
The tweet that went viral was posted by James Cintolo, who states in his bio he is a registered nurse, food and nutrition specialist, and certified personal trainer. Cintolo did not respond to a request for comment from The College Fix.
Cintolo's personal "about" page on his website states he "aids in healing individuals who feel the medical system has failed them." His Twitter feed is filled with posts skeptical of requiring the vaccine.
His tweet blew up in the span of 24 hours.
Should schools be held liable for damages caused to children by COVID-19 vaccine mandates?

— James Cintolo, RN FN CPT (@healthbyjames) January 5, 2023
Responses ranged from those in full support of legal liability against colleges for damages caused by vaccine mandates to those that want to sue colleges that did not impose mask mandates.
One account in support of legal action against colleges, @NCM4Ever responded: "Colleges that mandate/mandated C19 vaccines must be held liable for vaccine injuries. End of story."
Another user, @HeatherBearAMC, states, "YES! Colleges, government, pharmaceutical companies and of course Fauci… They all need to be held accountable!"
Another, @stevemur, stated that "One of the many problems with imposing mandates over informed consent is that it opens the door much more widely to liability lawsuits."
He contended that due to the risk of legal action, "Universities really need to re-think their COVID vaccine mandates. They're often not imposed on faculty or staff, but only on young students."
And @AllanKirkhart argued that "Any enterprise that respected an individual right to choose should not." But, for those that mandated the shots, "Holding those who attempted to force this medical decision on others….yes. there should be accountability. That is evil."
Other users strongly disapproved of legal action against colleges for damages caused by vaccine mandates.
One such user, @indigenous_w voiced his disapproval, "Every single person agreeing with this a f***ing a** clown. Everyday I wake up, conservatives prove how much more stupid they are now, than they were yesterday."
Another user argued for a different assignment of legal liability; @rekastner asked: "Should colleges be held liable for refusing to require masking, thus subjecting faculty and employees to infection by a deadly pathogen propagated by anti-maskers & anti-vaxxers like @healthbyjames who exaggerate the risk of the vax?"
Aaron Kheriaty, a former University of California Irvine medical ethics professor, chose to be fired rather than conform with his employer's vaccine mandate.
Kheriaty then filed a federal lawsuit against the school's mandate, stating that "Forcing those with natural immunity to be vaccinated introduces unnecessary risks without commensurate benefits — either to individuals or the population as a whole."
In November, the courts ruled against him, finding "there is no 'fundamental right' to be free from a vaccine mandate at a workplace," upholding a district court judge's earlier decision to toss the case, the Orange County Register reported.
Kheriaty could not be reached for comment by The Fix on whether he believes colleges should be held liable for damages caused by vaccine mandates.
The group No College Mandates argues the one-size-fits-all approach has failed college students and is working to encourage more people to speak out against mandatory COVID vaccines on college campuses.
"Colleges have known since August 2021 that the virus can transmit equally between unvaccinated and vaccinated individuals yet they mandated boosters and some have begun to mandate the bivalent booster," Lucia Sinatra, co-founder of the group, told The College Fix via email in September.
MORE: BYU Hawaii refuses to grant student exemption from vaccine that could paralyze her
IMAGE: Studio Romantic
Like The College Fix on Facebook / Follow us on Twitter