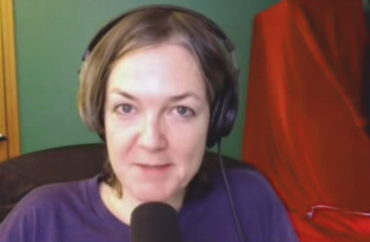 Until then she can't 'safely interact with students and fellow staff'
Jodi Shaw put a target on her back when she made a series of videos alleging anti-white racism in the work environment of Smith College, where she's an administrative assistant.
One milder example: She was told not to perform a rap to fulfill a "crazy" application requirement for a full-time library position, solely because of her race.
Now dozens of alumni are demanding the re-education of Shaw (above) for sharing her lived experience in the elite Massachusetts women's college.
Without naming her, the open letter to the Smith community says Shaw's videos "expound at length, though with little actual detail, on various complaints" about her employment conditions.
They described the targets of her complaints as "the College's recent efforts to implement implicit bias and anti-racist training as a means of embracing equity and inclusion both on and off campus":
While applicable to the entire Smith Community, this work is of the utmost importance for current students and staff, whose immediate safety and wellbeing during an already difficult semester have been compromised by the overt resentment and ire expressed by this community-facing member of the Smith staff, and by the national attention it has garnered.
It "reaffirm[s] our support" for earlier demands issued by black student organizations, including for race-segregated housing options and a required "Race Relations class" for graduation.
Shaw's complaints, however, show she needs even more indoctrination:
The existence and deleterious effects of White privilege and implicit bias have been well documented and established. That this staff member, despite being employed at a top U.S. college, remains ignorant of such documentation––in service, we presume from her video, of maintaining a guiltless understanding of her own Whiteness––only reinforces the need for ongoing education at Smith.
The alleged racism she perpetuates "must therefore be eradicated with purpose":
In the face of uncomfortable learning and change, there will always be those whose insecurity manifests as a digging in of heels. It is clear that this staff member, whose video evinces both a staggering lack of self-awareness and a deep preoccupation with disavowing the idea of White privilege, is indeed in need of further training before she can safely interact with students and fellow staff in the course of her employment.
Simply letting Shaw speak her mind "perpetuate[s] an environment that is unsafe for BIPOC [black, indigenous and people of color] Smith community members," the letter declares.
Legal Insurrection says the undated letter appears to have been "finalized" Nov. 11, and Shaw first mentioned its existence Nov. 18. Student newspaper The Sophian published it Monday.
The first signature on the list was Nov. 10, and none followed until Nov. 17, the day that more than half of the signatures were added. The letter has 75 signatures as of Thursday night, with the most recent added Thursday morning.
Leah Baldacci, investigations counsel at the Legal Insurrection Foundation, writes that Shaw is "raising legitimate claims of a hostile work environment under Title VII of the Civil Rights Act of 1964," yet her critics don't believe "white individuals can be discriminated on the basis of their race."
She calls the letter signatories more dangerous than Shaw, because she is simply "attempting to discuss legitimate concerns" and they are responding by demanding "uniformity of thought" on campus.
Read the letter, signatory list and Legal Insurrection post.
MORE: Meet the Smith employee whistleblowing on anti-white racism
IMAGE: Jodi Shaw Smith College Big Dig/YouTube
Like The College Fix on Facebook / Follow us on Twitter