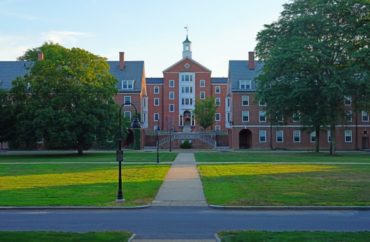 Smith College recently rebranded its social work program to no longer include the word "field."
A department at the Massachusetts school was formerly titled the "Office of Field Education," but is now referred to as the "Office of Practicum."
Carolyn McDaniel, a spokesperson for Smith College, told The College Fix the school specifically chose the word "practicum," which means a course of study involving the supervised practical application of previously studied theory, to better reflect the experience of all faculty and students.
"Consistent with the guiding principles of the social work profession, Smith College's School for Social Work strives for intentional accountability," McDaniels said via email. "Rather than a reactive moment, this is a proactive decision to bring the language of the school's program more in line with its goals and intentions."
Oxford Languages defines "field" as a noun meaning "a particular branch of study or sphere of activity or interest," and as an adjective meaning "carried out or working in the natural environment, rather than in a laboratory or office."
Neither definition appears to discourage inclusivity.
Smith is not alone in its decision to ax the term "field." In January, the University of Southern California's School of Social Work announced it would do away with the term "field" to adhere to anti-racist practices.
At Smith, its School of Social Work sent an email to students and faculty of the program in late April, citing Toward Racial Justice and the college's "core principles" as reasoning behind this rebranding. Toward Racial Justice, announced by Smith College in July 2020, is aimed at "advancing inclusion, diversity and equity" at the school.
The email said the term "field" holds negative associations for people of color and the change is to hold the college accountable and committed to antiracist practices.
According to a language key included in the email, the use of the word "field" will be discontinued in all aspects of the school, including references to professors, courses and other programs.
The phrase "into the field" is to be replaced with "in the internship experience" and all titles referring to "field" will be replacing the term with "practicum."
As of now, this change applies only to the School of Social Work.
MORE: You can't say 'crazy' at Smith College: Student paper replaces with 'ableist slur'
Aina Endo, a member of Smith College's class of 2025, told MassLive, when informed of the new title and the reason for the change, "I never really saw it that way before."
"Hearing about it now, I think the word has many different contexts and it's the way that you use it that matters," Endo said. "But if it bothers a lot of people it's important to address."
Loretta Ross, a professor at Smith College with a focus on women and gender studies, told MassLive that the "meaning of words change and evolve so rapidly that no matter how critical or cynical one becomes, you can't keep up."
"So I'm basically against all of this language policing," Ross added, "because there seems to be a lot of anguish spent to achieve very little and it can actually be very offensive and off-putting to people who aren't even trying to get into this competitive wokeness."
MORE: USC School of Social Work ditches word 'field' – construed as 'anti-Black'
IMAGE: EQ Roy / Shutterstock
Like The College Fix on Facebook / Follow us on Twitter