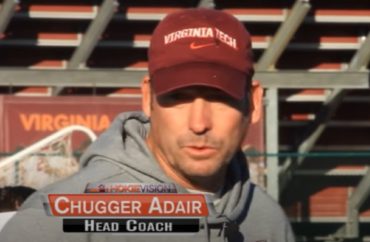 UPDATED
Pro-BLM coach allegedly 'berated' player
A student at Virginia Tech filed a lawsuit against her coach after he retaliated after she wouldn't kneel during a woke "unity statement."
Charles "Chugger" Adair (right), the soccer coach, wanted players to support Black Lives Matter and George Floyd before a game in September 2020. He even changed the names on the jerseys to list the names of alleged victims of racial injustice.
It came while the Atlantic Coast Conference mandated diversity training for student athletes and staff. The unity statement called for "dignity and respect" for all people — but the lawsuit alleged that Coach Adair did not extend his respect for BLM to players who opposed it.
While Adair supported Black Lives Matter, at least one of his players, Kiersten Hening, did not. But, according to the lawsuit, Hening had to kneel for the "united statement" if she wanted to play.
"As a result of her coach's actions, Hening can no longer play the game she loves," the federal lawsuit alleged.
"While Hening supports social justice and believes that black lives matter," the lawsuit said, "she does not support BLM the organization." This is because the activist group wants to "eliminate the nuclear family" and defund the police.
MORE: Teacher reassigned after kneeling repeatedly during Pledge of Allegiance
Hening's teammates called her racist and she faced mockery from Chugger Adair. Hening refused to kneel during a September game while an announcer read the unity statement. Adair "berated" Hening later, according to the lawsuit. He also benched her and his repeated bullying led her to leave the team.
"We, the ACC, are committed to seeing each other as equals, supporting each other, and treating each other with respect and dignity at all times, recognizing that our differences don't divide us, but they make us stronger," the unity statement said, according to a sports website affiliated with SB Nation.
A September 2020 announcement from the ACC said it would mandate "diversity and inclusion training for student-athletes, athletic department and conference staff" and read the unity statement before every game.
Virginia Tech declined to comment.
"At this time, the university will decline to comment on this matter," Mark Owczarski, a university spokesperson, told The College Fix via email.
'Reckless and callous disregard'
"Coach Adair intentionally violated the Constitution and acted with reckless and callous disregard for Hening's rights," the lawsuit concluded.
The Fix reached out to Hening's attorneys for an update on the case, but did not receive a response from Virginia-based attorneys Cameron Norris and nor Jeffrey Harris. The Fix emailed them twice in the past two weeks.
Hening is also represented by a Chicago-based attorney, Adam Mortara and his new group, Lawfair.
Mortara also represented Students for Fair Admissions in their lawsuit against Harvard University's admission policy and potential discrimination against Asian students.
He did not respond to an emailed request for comment from The Fix in the two weeks that asked him if this case was part of a broader strategy and if he had plans to sue other schools for similar policies.
The university has been sued at least twice now over its speech policies.
As recently reported by The College Fix, free-speech advocacy group Speech First sued university officials over a number of broad policies that could restrict the free-speech rights of students.
Editor's note: The article was updated to clarify that Hening was asked to kneel during a 'unity statement' not during the national anthem. Additionally, the spelling of Hening's name has been fixed.
MORE: Basketball player refuses to kneel, decides to help black people instead
IMAGE: Virginia Tech Athletics/YouTube
Like The College Fix on Facebook / Follow us on Twitter