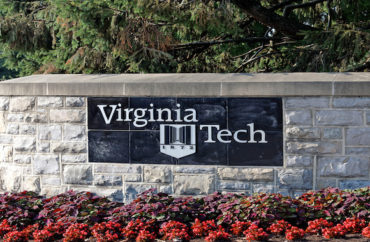 Recent Supreme Court decision could bolster case
Speech First has sued Virginia Tech officials over what the advocacy group said is a number of restrictive policies.
According to the federal lawsuit, Virginia Tech has "created a series of rules and regulations" that, according to the complaint, "restrain, deter, suppress, and punish speech" regarding political and social topics.
Speech First has filed the lawsuit on behalf of three conservative male students who argue that their free speech rights are restrained by the university's policies. The defendants include the university president, Timothy Sands, and a number of other administrators.
The university's "anti-discriminatory harassment policy" said that students cannot engage in "inappropriate conduct" based on a number of characteristics including age, gender and race. The policy forbids actions that could "create a hostile environment."
Speech First referred to several examples of "bias-related incidents," which can lead to university discipline.
For example, one student at the public university wrote "Saudi Arabia" on a whiteboard outside of a student's room.
Another student faced possible punishment for making a joke that referred to Caitlyn Jenner as "Bruce Jenner," the name of the male Olympian star before he started referring to himself as a woman.
One plaintiff, referred to as Student A, is concerned other students will call his views "intimidating," "harassing," or "unwanted and annoying" and that he could face punishment.
The student opposes abortion, illegal immigration and the Black Lives Matter movement. The student wants to share his support for the Second Amendment and his beliefs, informed by his Christian faith, on issues such as marriage, according to the lawsuit.
The other two students have similar concerns about facing university sanctions for breaking the harassment policy and other policies that Speech First has targeted as unconstitutional.
Broad prohibition against using university computers for 'political' reasons
Another topic that should be ended, according to attorneys representing the students, is the school's computer use policy. Virginia Tech forbids students from using university computers and its network for "political purposes."
The College Fix emailed university media relations officials Tracy Vosburgh and Michael Stowe and asked for comment on the lawsuit. Neither responded to emails sent in the past two weeks.
"Virginia Tech's speech-suppressing policies were flagged for us by a number of people," Nicole Neily, the president of the free-speech advocacy group, told The College Fix via email through a media representative.
"The school maintains a number of policies that have been designed to – and had the effect of – chilling student speech," Neily said. She said many of the policies were "weaponized against students for expressing constitutionally-protected viewpoints."
A recent Supreme Court case may help the group prevail. The Fix asked Neily if the recent Uzuegbunam Supreme Court decision, which made it easier for students to sue public universities over speech policies, would help with this case.
MORE: Students file complaint after professors use N-word during discussion
Neily said the case "was a great high-profile reminder to schools that they may not infringe upon students' rights with impunity – and that when they do so, they will face consequences."
Like Chike Uzuegbunam, who wanted to share his Christian beliefs with students on campus, Speech First's clients face a similarly restrictive policy.
Virginia Tech's Policy 5215, released in August 2020, requires students to obtain permission for any "informational activities" such as the circulation of a petition or the distribution of pamphlets.
But the university policy forbids students who are not affiliated with an official university organization from distributing information.
This policy, according to the lawsuit, prevents people like Student B who want to "independently distribute literature about conservative causes on campus."
"[A]dministrators at Virginia Tech have intimidated students into silence, refraining altogether from expressing comments or viewpoints that might be perceived as controversial or offensive," Neily said.
MORE: Two professors threaten peer for advising TPUSA chapter
IMAGE: Katherine Welles / Shutterstock.com
Like The College Fix on Facebook / Follow us on Twitter