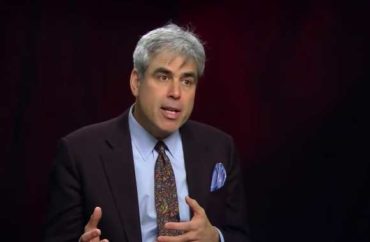 Truth-seeking academic launches new venture
A longtime critic of the academic groupthink and ideology infecting the pursuit of truth, famed social psychologist Jonathan Haidt started a new blog to address the "chaos, fragmentation, and outrage" of our culture.
Haidt, a professor of ethical leadership at the New York University Stern School of Business, has long been dedicated to bridging ideological divides and pursuing truth beyond ideology.
At the Stanford Academic Freedom Conference last November, he spoke on "Why it has Gotten Harder to Find the Truth."
In October 2016, Haidt argued that the conflict at universities "between truth and social justice is likely to become unmanageable." He stated last September that he would resign from the Society for Personality and Social Psychology because he believes the DEI and anti-racism commitments it requires from its members are conflict with his duty to tell the truth.
"In order to present research at the conference, all social psychologists are now required to submit a statement explaining 'whether and how this submission advances the equity, inclusion, and anti-racism goals of SPSP,'" he wrote in an essay for Heterodox: The Blog.
"Most academic work has nothing to do with diversity, so these mandatory statements force many academics to betray their quasi-fiduciary duty to the truth by spinning, twisting, or otherwise inventing some tenuous connection to diversity," Haidt continued.
"I refuse to do this."
On Wednesday, Haidt launched a new venture, the "After Babel" Substack newsletter. The newsletter is his "effort to think through, in public, the profound psychological and sociological changes that occurred in the 2010s when human social and political life migrated onto platforms curated by a few for-profit companies whose business models drove them to maximize engagement."
"Babel" refers to Genesis 11, when Noah's descendants decided to build a city with a tower that shall rise as high as heaven. God disapproved of their pride and said, "Come, let us go down, and confuse their language there, so that they will not understand one another's speech."
That confusion and lack of mutual comprehension is "exactly what it felt like to me in 2015," confronting an anxious new generation of students that "demanded new norms, procedures, and bureaucratic responses that are incompatible with the older truth-seeking culture of universities," Haidt wrote.
The Babel Project begins his effort to write two books on the changes social media has produced in human development and liberal democracy, he wrote. The first planned book, "Kids in Space," will focus on how social media has affected human development; the second, "Life After Babel," will trace how that same media has affected liberal democracy."
"I hope to tell you about some of my major findings as I find them," Haidt said, explaining that he will use the blog to write the book. "I will solicit feedback, alternative explanations, and criticism along the way….I hope you will offer comments on the posts."
"Thanks for joining me on this journey to figure out what is happening to teen mental health and to liberal democracy," he wrote.
MORE: Famed social psychologist Jonathan Haidt spells out three bad ideas to resist in college
IMAGE: Knowledge at Wharton/YouTube
Like The College Fix on Facebook / Follow us on Twitter