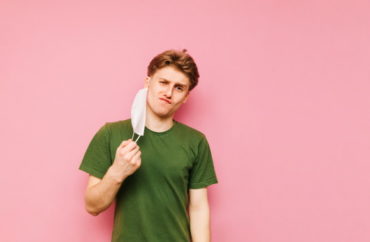 Money for plasma donations and a chance to avoid on-campus quarantine
As universities started preparations to bring students back to campus, a debate started popping up: Should students intentionally get coronavirus?
The decision to intentionally get coronavirus may be an understandable one for medical, social or economical reasons.
For example the vice chancellor of Syracuse University, Mike Haynie, warned out-of-state students to not intentionally contract coronavirus to avoid a two-week isolation holding upon returning to campus.
Syracuse.com interviewed Haynie in July and reported that "someone who has tested positive for coronavirus within the past two months and then tested negative would not be subject to the state-mandated quarantine that currently covers 31 'hot' states."
That led to the idea that some students might get infected, quarantine in the comfort of their homes, and then test negative before returning to campus.
Anyone who has lived in a freshmen dorm can understand the clear difference in quarantining for 14 days in mom and dad's home with homemade cooking versus living in an isolation chamber for 14 days and being served university cafeteria food.
There are of course other factors students should weigh, such as the vulnerability of household members or other people they are regularly in contact with — getting coronavirus and then infecting someone who is in a high-risk category is not ethical.
But university officials could be glad students are getting coronavirus before coming to campus, isolating themselves and then coming to campus with a lower likelihood of contracting it again. (Reinfection is rare).
MORE: Ivy League epidemiologist skeptical of campus coronavirus crisis
After all, potential immunity from coronavirus before a return to campus helps administrators keep coronavirus rates low. And students will have a lower temptation to break quarantine when stuck at home versus being at school surrounded by friends.
It's arguably better for public health for students to get infected prior to a return to campus.
It's especially understandable when reading the reports that have come out about the isolation of on-campus coronavirus quarantines.
One parent wrote to journalist Jordan Schachtel and told him about her daughter's experience at the University of South Carolina:
"After four months of quarantine with no friends, she was desperate to go to campus so we encouraged it. I am sick with worry every day."
Schachtel's website has collected stories from across the country on the horrors of coronavirus isolation.
Meanwhile, a Brigham Young University campus warned students in October against rumored efforts to get coronavirus in order to be able to sell their plasma for more money. Companies are seeking the plasma of people who have the coronavirus antibodies.
"BYU-Idaho is deeply troubled by accounts of individuals who have intentionally exposed themselves or others to COVID-19, with the hope of getting the disease and being paid for plasma that contains COVID-19 antibodies," the school said, according to Idaho news station WCSC.
Students can get $100 to $200 per sale of plasma, and can donate plasma multiple times per month.
Some see it as perfectly reasonable for healthy students to make the decision to try to get coronavirus to make money (especially since selling plasma helps people who need it to recover) or to avoid depressing isolation.
Monetary incentives that encourage people to provide valuable plasma are no different than paying warehouse workers or grocery store employees more money to risk getting coronavirus to ensure necessary goods reach people.
It makes sense why students would consider getting coronavirus, though there are certainly competing issues at play, such as the safety of older people and those with underlying health conditions.
MORE: Student newspaper deletes article on study that found COVID has had minimal effect on annual deaths
IMAGE: Bodnar Taras/Shutterstock
Like The College Fix on Facebook / Follow us on Twitter