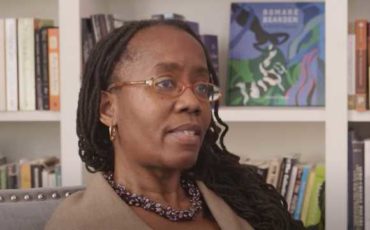 The classics should be 'elevated and broadened' for diverse audiences
Amid ongoing controversy over whether education in the classics should be eliminated or reformed to exclude works deemed too Western or white, a black professor affirmed that the classics are for everyone.
University of Virginia sociology Professor Angel Parham said the study of Greco-Roman culture still has "much to teach us." The classics should be "elevated and broadened," not repudiated, she wrote in a May 20 op-ed for The Wall Street Journal.
"The study of Greek and Latin literature and history has a proven record of lifting the performance of students, especially the disadvantaged."
"…It is ironic that critics deem classics racially exclusive when black people fought so hard after the Civil War for the right to a classical education."
"And now black students are being told yet again a classical education isn't for them," she stated.
The classics department at Princeton University last year removed Greek and Latin as a requirement for its major, stating on its website that the "history of our own department bears witness to the place of Classics in the long arc of systemic racism."
The College Fix reached out to Parham to learn more about her own educational journey and how she first became interested in the classics, but she responded stating she was not able to comment and referred The Fix to an interview with the Daily Stoic.
"I entered the world of classics through the back door," she said, referring to the time when she began to read literature to her own daughter while homeschooling her.
Parham became immersed in the literature as she introduced her daughter to accessible children's versions of classical texts.
"To me, that's what a four or five year old should be doing: listening to and getting lost in wonderful literature."
In response to the objection that classical literature is written mostly by white men and that they were bad people, she said that black intellectuals such as Frederick Douglass, W. E. B. Du Bois, and Phillis Wheatley used classical literature "in liberatory ways," in the Daily Stoic interview.
Parham founded Nyansa Classical Community in New Orleans, which "provides classical, Christian curricula and programming designed to connect with and draw students from diverse backgrounds into the beauty of classical literature and the Great Conversation," according to its website.
The organization's curriculum pairs texts from the Bible and Greek and Roman classic stories with works by black artists and thinkers.
Parham co-authored with Anika Prather "The Black Intellectual Tradition: Reading Freedom in Classical Literature," which introduces readers to black intellectuals that engaged with the classical tradition.
Prather teaches in the classics department at Howard University and is the founder of The Living Water School in southern Maryland.
"The powerful legacy of classical education among Black intellectuals and teachers in America is a national treasure," according to the book's publisher, Classical Academic Press.
Parham and Prather "mined the [classical] tradition, weaving it together with their African and African American heritage…In the process, they brought to light a wealth of truth, goodness, and beauty from within the great tradition," it stated.
The Fix requested a review copy of the book, but the publisher said it could not provide one within the necessary timeframe. The Fix also contacted Nyansa Classical Community as well as the Institute for Advanced Studies in Culture at the University of Virginia, where Parham is a fellow, but has not received a response.
Classical texts influenced prominent black intellectuals and activists, Parham noted
Parham pointed out in her op-ed that many people of African descent in the 18th and 19th century received a classical education, and that they used the texts to "argue against their enslavement and fight for their freedom."
Later black writers also drew on classical foundations. Toni Morrison, a revered black author who died in 2019, was a classics minor and influenced by classic writers Ovid and Euripedes, according to Parham. Martin Luther King, Jr. cited Plato's "Apology" in his "Letter from a Birmingham Jail."
Parham granted that there are problems with classical literature, such as the positive representation of slavery in some texts, but believes that simply casting off a group of texts or authors as racist is not the right approach.
"One has to have a broader understanding of the classics and of what they can do," she added.
There are two extremes, she said in the Daily Stoic interview. There are those who say the canon must be defended at all costs and, on the other hand, there are critics who argue we should forget about all these writers because they were racist.
"That is just not how black intellectuals process this," she said. "That is not how they process this at all. And these are people we would never critique for reinforcing racist hierarchies."
MORE: Immigrant professor explains how the Great Books changed his life
IMAGE: Baylor HonorsCollege/YouTube
Like The College Fix on Facebook / Follow us on Twitter