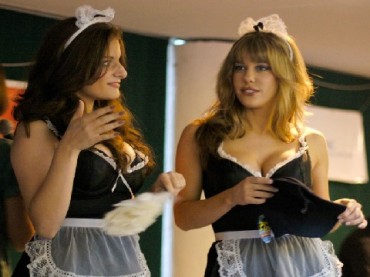 Dean offers counseling for those traumatized by 'microaggression'
Members of a Columbia University sorority were dubbed insensitive – even racist – after they donned culturally inspired costumes at an Olympics-themed party.
The Feb. 22 mixer has since prompted politically correct pandemonium at the Ivy League institution – with its interim dean of student affairs going so far as to offer counseling for those who were offended.
A Latino campus group called the party "offensive," saying "stereotypes are used to oppress marginalized communities." The sorority in question also begged for forgiveness and promised to launch "social awareness" campus initiatives.
At issue is an Olympics-themed sorority/fraternity mixer at which female students wore costumes to celebrate the Beer Olympics, which is like the real Olympics but with less athleticism and more beer, maracas, potatoes and sombreros.
Some on the "French" team wore revealing, tight French Maid-inspired get ups, while a few on Team Japan wore pigtails and provocative schoolgirl attire that included chopsticks and high socks, according to photos published by Bwog, a campus news website run by Columbia students.
(AT RIGHT – BWOG PHOTO COMPILATION SCREENSHOT)
One of the students who dressed as an Irish immigrant wore a T-shirt saying "kiss me, I am a famined potato." And pictures of the Mexican team included young gals with fake mustaches and sombreros, a bottle of tequila, and an incomplete version of the Mexican flag.
It was all too much for campus administrators.
"I am incredibly saddened and disappointed to learn of students in our community participating in costume caricatures of several different nationalities," Terry Martinez, interim dean of student affairs, said in a prepared statement. "It is our utmost responsibility to ensure that your living and learning environment is free from any act or behavior that degrades individuals or groups, including racially or culturally- based insensitivity."
Dean Martinez pledged that the university's "bias-related response team" would reach out to "potentially impacted communities to offer support and follow-up," adding such "microaggressions unfortunately are pervasive … we need to continue our collective efforts to substantively address systemic issues that perpetuate such incidents."
The Sorority Sisters begged for forgiveness as well.
"We – wrongfully and regretfully – used stereotypes a few days ago in a manner that we now recognize was insensitive and unacceptable," they said in a prepared statement that included a pledge to launch multicultural initiatives on campus. "We were wrong, and we are truly sorry for our actions surrounding the weekend's events."
Complicating matters, however, is the fact that one of the offended campus groups – Columbia's Chicano Caucus, the one that said caricature Mexican attire is offensive – also recently hosted a caricature costume party of its own, prompting allegations of hypocrisy, Bwog reports.
The Chicano Caucus on Feb. 13 participated in an event which, the Caucus argued, showcased Mexico through papel picado and face cutouts. During the ironically titled Glass House Rocks 2014 event, many Caucus members posted photos of themselves on Facebook with cutout images of Mexican immigrants wearing sombreros and fake mustaches, raising questions to the Caucus's credibility on ferreting out negative stereotypes.
The Chicano Caucus, like the sorority, apologized in a written statement to those who were offended by the photos.
The statement, however, goes on to distinguish its Facebook photos from the sorority photos. The Caucus photos, the statement declares, were meant to pay tribute to "one of the many cultures within Mexico, combating the very issue of cultural unawareness," while the sorority photos were meant to malign an oppressed minority through stereotypes.
College Fix contributor Christopher White is a University of Missouri graduate student and an editorial assistant for The College Fix.
RELATED: ASU Fraternity Suspended For 'MLK Black Out' Party – click here
RELATED: Sombreros, Nachos Deemed 'Culturally Insensitive' at Cornell University – click here
RELATED: Students Told Not To Drink Tequila, Eat Tacos on Cinco de Mayo – click here
Click HERE to LIKE The College Fix on Facebook / Follow us on Twitter
Main Image: CC Chapman/Flickr