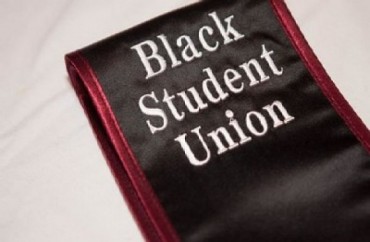 The Black Student Union at Southwestern University issued a set of five demands late last month after racist graffiti was discovered on the dorm whiteboards of several "students of color."
The BSU also held a protest against what it dubbed Southwestern officials' "inadequate response" to the graffiti and other instances of racism, the student paper The Megaphone reports.
Demonstrators chanted "No more Mark Twain. We want change!" in apparent reference to school president Laura Trombley, who's a scholar of the noted American author.
BSU member Kellie Henderson said Trombley and other school officials are "sugar-coating the racial terrorism against Students [sic] of color" and are not "sooth[ing] the anger and sadness of those affected."
Student Austin Gordon talked about his terror at seeing a noose in the bathroom at Ruter Hall and related "what his experience is like being a Black man in Georgetown's conservative environment."
Another student noted a local white woman who was walking her dog had purposely taken a "long route" to avoid passing by him.
MORE: Bucknell BSU makes demands in wake of campus' 'unrelenting anti-blackness'
The BSU demands included:
— more security cameras in dorms and public areas
— methods "to report racist incidents that socially supports the reporters during and after reporting"
— "an established standard for equitable treatment of others [and] an explanation of what racism looks like"
— mandatory DEI (diversity, equity and inclusion) training for everyone on Southwestern's campus with "consequences for those who do not attend."
In a closing statement, BSU President Taylor Bass said "The perpetrators have to be held responsible and dealt with properly, and the most important and efficient way that happens is through school action."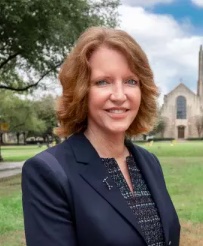 A search of The Megaphone reveals nothing about the investigation or any suspects in the graffiti case. The College Fix received no response from the Southwestern U. Safety Office regarding its query about same.
On Friday, President Trombley (pictured) addressed students' concerns in a "President's Corner" discussion. Regarding the protest, Trombley said she "did not appreciate the bashing of Mark Twain" but agreed there are "many deep-seated issues" not only at Southwestern but in the surrounding town of Georgetown, Texas.
(She noted the first time she saw a Confederate statue in the Georgetown square, she "had to pull over […] to process what she saw.")
Trombley also said $20,000 has been allocated for the hiring of DEI experts to put together a  mandatory training for all incoming students.
She added that students can be "rest assured" she will follow through on making improvements: "I don't bullshit. I just don't. I don't have time for it."
MORE: UCSB Black Student Union asks white peers not to attend free 'Wakanda Forever' screening
IMAGE: Southwestern U. screencap
Like The College Fix on Facebook / Follow us on Twitter