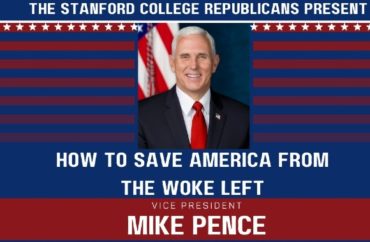 Student senate initially denied a funding request from the conservative group
Stanford College Republicans successfully appealed a denial of funds for its event with former Vice President Mike Pence and will now host him on February 17.
"Come join us and the Vice President as he makes the case for 'How to Save America from the Woke Left' at one of the institutions where wokeism first achieved ascendency," the CRs announced on February 2 on their Facebook page.
The CRs fought with the Undergraduate Senate for more than a month after it initially denied a request for $6,000 to host President Donald Trump's VP.
"Senators weighed student safety, freedom of speech and COVID-19 protocols," an anonymous senator told The Stanford Daily in December.
Student senators advocated for the denial of funds based on senators' own political beliefs, according to audio obtained by the Foundation for Individual Rights in Education.
"I think we're allowed to make moral judgments if we want to," Senator Amira Dehmani said. "As a senator, as an individual human being, you're allowed to weigh your options, both technically and morally. So if you're against the individual speaker, then I think it's fine to vote in that way."
"Having such a speaker may affect the health and well-being — emotionally, physically, and mentally — of students, and that should be taken into consideration as you consider your vote," another senator said.
But freedom of speech ultimately won out, after the College Republicans appealed the decision to the  Constitutional Council, the student government's judicial branch.
MORE: Multiple attempts to cancel Mike Pence on college campuses
The judicial branch criticized the senate for taking a secret vote using messaging app Slack instead of voting publicly. "A practice of voting in such a manner could not have possibly been constitutional," the majority opinion stated in its decision released January 25.
"Any vote taken over an electronic medium without adequate public notice is void. Any vote taken over an electronic medium without the ability for members of the Association to make their views known is void," the council wrote.
The judicial branch also criticized the senators for voiding a 24-hour notice requirement for votes after the representatives said the 20 hours would suffice because it was finals week. "Numbers no longer have meaning if 24 becomes 20 simply because a meeting occurs during finals week," the branch wrote.
"As of the announcement of this opinion, the Standard Grant is deemed to have been enacted with [COVID protocols in place," the majority opinion concluded.
Stanford College Republicans President Stephen Sills has not responded to a College Fix request for comment sent in the past several weeks.
The judicial opinion has not stopped some opponents from allegedly vandalizing posters for the event.
"With our lecture with Vice President Mike Pence at Stanford less than a week away, it is unsurprising that resistance to our event is already ramping up, with leftists actively tearing down our flyers at every opportunity they get," the conservative group wrote on Facebook.
"Resistance to our event is completely futile, and we look forward to having a successful event," the conservative club said.
The student government previously denied the CRs funding in 2019 for an event with filmmaker Dinesh D'Souza.
It approved just $16.50 in funding for the event, though later relented and allocated over $3,000 after litigation threats.
MORE: Stanford president defends campus free speech
IMAGE: Stanford College Republicans/Facebook
Like The College Fix on Facebook / Follow us on Twitter