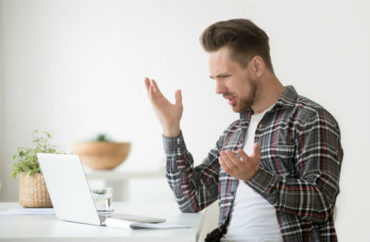 'Setting nebulous objectives and constantly creating new ones'
Anyone who has been through a sexual misconduct proceeding on a college campus in the past several years can testify that it's full of arbitrary and capricious decisions.
Judgments are often preordained, based on public pressure and PR. (Reminder: That's not legal.) What the administration wants, the administration gets, regardless of the evidence.
It seems increasingly the same way in Greek life. Some fraternities get publicly executed for private behavior that gets made public, intended to whip up mobs and force the hand of cowardly administrators. It just happened at Syracuse, with a judge bizarrely approving their expulsion in spite of Syracuse's own contrary policies.
There's another option to persecute and drive away Greek life: bureaucratic strangulation.
MORE: WVU tells fraternities they 'do not have due process rights'
Writing in The Stanford Daily, columnist Harrison Hohman blasts the Stanford University administration for kicking a fraternity off campus on the flimsiest of justifications.
What did Theta Delta Chi do to deserve the harshest punishment Stanford can mete out? According to Hohman, it received the grade "Needs Improvement" in consecutive years.
What the hell does that mean? Good question. "There was never one incident or particularly heinous crime that damned Theta Delt, but rather, a slow strangulation by red tape and administrative whim," writes Hohman, a member of Kappa Sigma.
TDX, as it's known, didn't even get the dignity of a formal explanation, just an email that Stanford has "decided to remove" the fraternity starting next academic year.
Stanford never gave the fraternity concrete steps it could take to improve under the "Standards of Excellence" program that rules Greek life with an iron fist. Similar to a Title IX proceeding, TDX was given amorphous charges on its 2017 report: It needs to "identify, cultivate, and articulate a sense of purpose in order to ensure sustainability on campus."
You have to wonder if administrators have any "sense of purpose" other than harassing students with vague diktats to justify their useless jobs.
Even though its 2018 report suggested that administrators were satisfied with TDX's response to Stanford's ouija-board directions to improve its "financial management" and "chapter management," the university still faulted TDX for falling short.
MORE: Judge lets Syracuse violate its own promises by punishing frat
It even scolded TDX for the actions of another Stanford unit, the Office of Community Standards, which imposed a quarter-long "social probation and other minor penalties" on TDX, according to Hohman. "It was backhanded, circular logic" that let Stanford achieve its predetermined result:
By setting nebulous objectives and constantly creating new ones, the university can continuously move the proverbial goalposts for Greek houses and the expectations that they face. Placating the university is difficult for organizations under the easiest of circumstances but when the whims of a few minor administrators can dictate such harsh swings of fate, many houses find it almost impossible to know what is expected of them, or what improvements, if any, are enough.
The university didn't even bother giving TDX a chance to respond to its latest evaluation, which explicitly told the fraternity to "[d]raft an action plan," before exposing the fiction with its vacate notice. Then it gave the fraternity eight days to appeal a decision that wouldn't take effect for another eight months.
This is a shot across the bow at all fraternities, Hohman writes:
A proud community, with some 70 current members and almost 65 years of history in the same house were all undone by a single, seemingly arbitrary decision. This was a decision made by a small number of minor administrators, whose power is clearly disproportionate to their stature and knowledge of the situation.
If you're troubled by the kangaroo courts of Title IX spreading to Greek life, sign this petition to let TDX stay on campus.
MORE: U. Oklahoma tops 'Muzzles' for expulsion of frat leaders for bus chant
IMAGE: fizkes/Shutterstock
Like The College Fix on Facebook / Follow us on Twitter