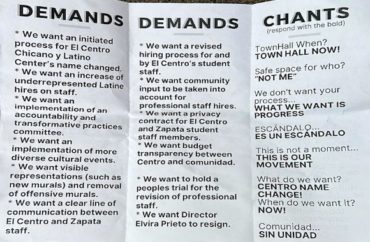 A group of "Latine" students at Stanford University has issued a set of demands to a campus Latino center as it alleges the center is not inclusive — and even racist.
("Latine," like "Latinx," is an allegedly gender-neutral term used by virtually no one outside of academia.)
According to The Stanford Daily, the ComuniLove NOW! Collective — which claims to represent the "diversity of the Latine diaspora" — says El Centro Chicano y Latino does not "protect" or "respect" its members.
The collective's demands are a result of the postponement of a scheduled town hall meeting which was to discuss alleged racist incidents at the Mexican-themed Casa Zapata. These incidents include a "guest speaker" who jokingly stated "F*ck Mexicans" and that "people should be 'in the back' or 'go first' based on their ethnicity while standing in line for food."
The collective also alleged Casa Zapata engaged in "behaviors that continue to perpetuate imperialism, xenophobia, and nationalism."
Among ComuniLove NOW!'s demands:
— El Centro Chicano y Latino must change its name "to be inclusive of current student identities and reflective of contemporary community conversations."
— The hanging of new "representative" murals in the center and the removal of "offensive" pictures that "depict communities in ways [it] no longer feel[s] are appropriate."
— More "underrepresented Latine hires" at the center.
— Creation of a "community-led accountability and transformative practices committee" which will utilize "non-punitive practices to address issues through restorative circles, student and staff conversations, and educational opportunities that emphasize accountability and transformative repair."
— That undocumented students "feel protected" and "have safe networks of visibility."
— El Centro must "create spaces where students are able to be their authentic selves."
MORE: Professor rips campus cops for year-old face mask incident involving 'Latine' student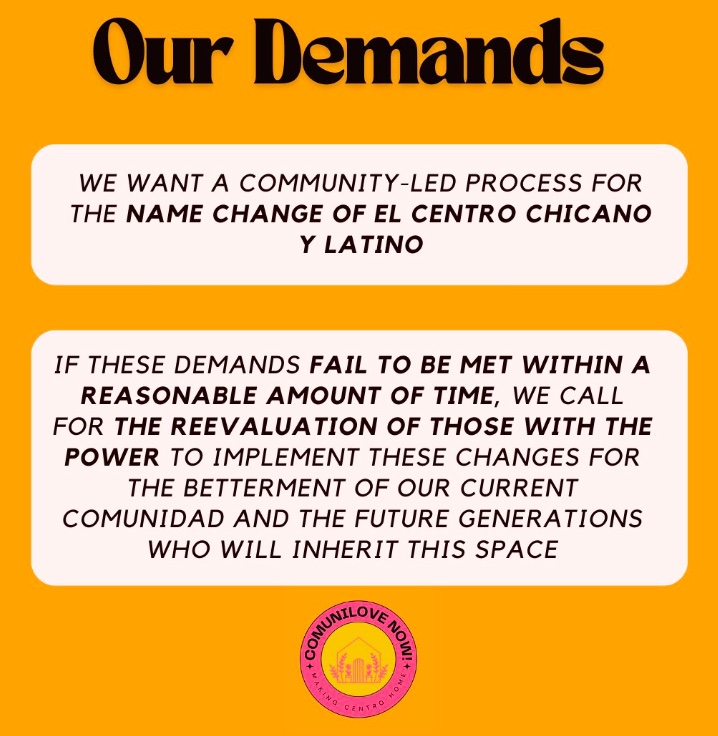 ComuniLove NOW! warned that if its demands aren't met within a "reasonable amount of time" then the power structure of El Centro must be re-evaluated.
On its Instagram, the Collective also criticized Stanford as a university, calling them directly "responsible for not giving El Centro — or any community center — sufficient funding to expand and support its staff." Approximately 18%, or around 1,400 of the University's matriculated undergraduate population of 7,761 in fall 2022 ethnically identified as Hispanic or Latino. …

The Collective also called for Stanford to increase "the financial and structural support provided to community spaces dedicated to marginalized students." On its Instagram, the Collective said that the University was "responsible" for the lack of sufficient funding at El Centro.

"This is not just about El Centro, but the respect, dignity, and justice that all marginalized students deserve on campus," ComuniLove wrote to The Daily.
Two letters to the Stanford community, noted by commenters to the Daily piece, challenged ComuniLove NOW!'s claims. The first offers pie charts showing how diverse El Centro's event programming is (excluding academic-related events, LGBTQ programs were featured the most — 26.7 percent).
The other, by alumni David Eli Patiño, claims ComuniLove NOW! "defamed and attacked" El Centro and "personally targeted" its current director Elvira Prieto. Patiño wrote in part:
We were in the midst of a Cafecito—an event that Elvira began in 2010 which you may remember—in collaboration with the Queer Student Resources Center (QSR) in the community room (old computer cluster room) when a group of students with banners, megaphones, speakers and microphones, drums, and eventually our own center's pots and pans stationed themselves outside of the community center. They began taunting 'Elvira! We're here for you! Elvira! Come out, Elvira! Come out, Elvira!' Some of the students who had been waiting for the action to start while enjoying the Cafecito and pan dulce we were providing (or anxiously waiting in the lounge) then joined in the action. It was immediately clear the level of aggression students had come with. I personally had to escort two people, a colleague and one student, outside through the Old Union courtyard, because they felt unsafe.
MORE: Latina professor under fire for quoting N-word in rap lyrics disappears from Stanford's website
IMAGES: David Patiño screencap; ComuniLoveNow!/Twitter screencap
Like The College Fix on Facebook / Follow us on Twitter