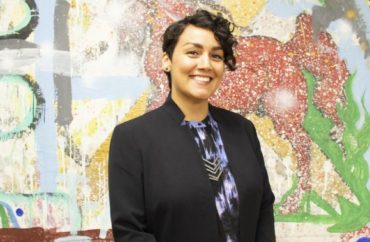 PR official won't answer if she wrote or directed professor's apology
The Stanford art history professor who wrote the full name of the rap group N.W.A. on a class discussion board may have left the elite university in the wake of student outrage and lack of support from administrators.
Rose Salseda (above), who also read aloud N.W.A. lyrics including the N-word in her virtual guest lecture, purportedly wrote an apology letter Monday to the Stanford community. It was sent from a public relations official, however, raising questions about how authentic the apology was.
The College Fix discovered Thursday that Salseda's faculty profile page had been taken down completely sometime since Tuesday late afternoon, when it was still live (below).
The page had her contact information listed around 4 p.m. Eastern Tuesday but the contact information disappeared in the next hour. (It remains visible in a Google cache from Sunday.) What remained on the page Tuesday was her biographical information, including Salseda's curriculum vitae and course offerings.
She has also been removed from the faculty directory for the Department of Art & Art History. In the main Stanford faculty directory, the professor appears to have been reduced to "R Salseda," with no further information. The vast majority of faculty members show at least one form of contact information and their official position at Stanford.
Stanford has maintained a wall of silence about Salseda's status and the nature of her apology in response to Fix queries.
Joy Leighton, senior director of public relations for the School of Humanities and Sciences, has not responded to questions about whether she partially or completely wrote the apology letter, which notes that Leighton sent it on Salseda's behalf.
Neither the art department nor Leighton responded when asked whether Salseda's faculty page had been deliberately taken down by Stanford and if she's still at the university. The Fix called and emailed universitywide media relations Thursday night with the same questions.
Salseda has also not responded to queries to her email and phone, whose voicemail still identifies her as the recipient.
Salseda's situation may end up resembling a recent Arizona community college's apology for pressuring a professor to apologize for quiz questions about Islamist violence in his world politics class. A PR staffer wrote the apology and sent it to other administrators, but the professor never agreed to sign it.
MORE: Stanford student government blasts prof for using full name of N.W.A
Resolution condemning her also uses N-word – twice
The controversy started when two Stanford professors invited their Latina colleague, who specializes in "the visual art of U.S. Latinxs and African Americans," to guest-lecture their course, Introduction to Comparative Studies in Race and Ethnicity, on April 28. (Salseda teaches a course on "Civil Unrest in the 20th and 21st Centuries" with similar content.)
According to her subsequent apology letter, as part of this guest lecture, Salseda discussed the lyrics to "Fuck Tha Police" by N.W.A. She did not skip over or euphemize the word "nigga," which is used in the song 10 times, as she read the lyrics aloud.
Salseda said it was "integral to the analysis of an artwork" being discussed on "racial solidarity among black and brown communities."
Despite this academic context, some students in the class were deeply offended and challenged her use of the word in the course's Zoom chat. Later, Salseda claimed to have "realized" her mistake and "the distress this had caused students." The Intro to CSRE professors forwarded a note to students from Salseda that night, apologizing for the "hurtful" action and promising "not [to] read that type of text again," according to The Stanford Daily.
Less than a week later, in a bid to ensure "no student would feel uncomfortable with the assignment," Salseda herself wrote a biography of the group in an online discussion board for her own civil-unrest class. This time she wrote out N.W.A.'s full name, Niggaz Wit Attitudes.
Once again, this caused an outcry among students. Several Asian and Asian-American student groups issued a statement on May 7 denouncing Salseda and her "lackluster apology." The Undergraduate Senate also passed a resolution condemning Salseda's use of the N-word. (The resolution itself uses the word "nigga" and "Niggaz," unedited. While its author is black, several of the sponsors are not.)
"While my intention was to center the voices of artists who have made important social interventions," Salseda wrote in her apology, "I recognize the impact my reading of the N.W.A. lyrics and the posting of their biography has had on students, especially Black students." She concluded by "sincerely apologiz[ing] for those actions" and declaring her commitment to "changing classroom practices."
The opening sentence of her apology letter reads: "Sent from Joy Leighton (Sr. Dir. of Public Relations for the School of Humanities and Sciences) on behalf of Professor Salseda."
MORE: Dean denounces prof for quoting SCOTUS decision that includes n-word
'Enhanced funding for incentive programs that hire diverse faculty'
It's not clear what Stanford intended by scrubbing Salseda from the faculty directories: if she has left the university or if a maintenance, security or privacy issue prompted the sudden removal since late afternoon Tuesday.
Previously, Salseda had been the only faculty member to be designated under the subject of African American art, which prompted some complaints among students.
"As much as I love the field and my studies, I believe that the art history program's faculty is in desperate need of diversity and expansion," one of Salseda's students told the Daily. "The way she chooses to engage with the material has to be more sensitive, it has to be more intentional," said Kobe Hopkins (below), the student senator who wrote the resolution.
The Fix reached out to Stanford's Latino student office, El Centro Chicano y Latino, for its thoughts on whether Latinos such as Salseda can use non-Latino racial slurs in any context. It did not respond.
The Undergraduate Senate resolution also called on Stanford to "commit to increasing funding for the program in African and African-American studies" and equip AAAS "with the tools and resources necessary to recruit Black scholars with expertise." In response, public relations official Leighton told the Daily that she hopes to be able to attract more scholars into the program from other related disciplines.
The university has "enhanced funding for incentive programs that hire diverse faculty," E.J. Miranda, senior director of media relations at Stanford, also told the Daily. He said "faculty diversity is a priority" for Stanford, "and while some changes take time due to the nature of faculty careers, we will continue making progress."
MORE: College exonerates white professor for quoting black author
Not the first professor under fire for using the N-word in an academic context
If Stanford's actions regarding Salseda are intended as a form of sanction, she would join a line of recent faculty targeted by their universities for using the N-word in an academic context.
The New School investigated Laurie Sheck for "discrimination" last summer after the white instructor and Pulitzer Prize finalist quoted black author James Baldwin from a television appearance. He had said "I am not your nigger" on air, but the slur was removed from a 2016 documentary on Baldwin. That became the basis for a class discussion on sanitizing "all the darker forces in our history" in Sheck's graduate-level seminar.
The elite multidisciplinary university in New York dropped the investigation after the Foundation for Individual Rights in Education launched a pressure campaign against it.
Emory University barred Paul Zwier, a law professor, from teaching required classes after a September 2018 incident where he quoted the N-word while discussing a civil rights case in class. It then placed him on leave for telling a student during office hours that he had been called a "nigger-lover" as a civil rights activist.
Though FIRE and the American Association of University Professors told Emory this was a breach of academic freedom, Zwier's dean sought to have him stripped of tenure and fired after the professor appealed.
While the law school dialed back his punishment this spring to a ban on teaching mandatory classes for another year, the new dean told the community that Zwier had used "racially-charged, derogatory language … without a clear pedagogical objective."
MORE: Universities repeatedly discipline profs for referring to n-word
IMAGE: University of Texas-Austin, Stanford University, Kobe Hopkins/Twitter
Like The College Fix on Facebook / Follow us on Twitter