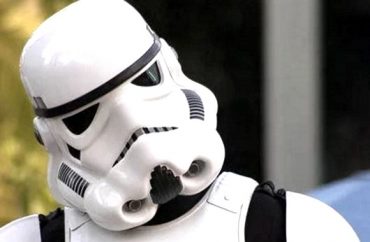 Star Wars Stormtrooper costumes have been banned from an upcoming Princeton University alumni reunion party, with organizers telling their fellow 2012 grads the costumes would just be too upsetting for some.
"The Class of 2012's costumes for an upcoming reunion were changed after a classmate raised concerns about the origin of the term 'storm trooper,'" Lindy Li, a spokeswoman for Princeton's class of 2012, said in a Facebook post obtained by the Daily Caller. "The costumes were vetted by over 50 classmates who did not make this connection and never had any intention of referring to the World War II era."
"Out of an abundance of caution and sensitivity, and in an effort to guarantee all classmates feel comfortable and welcome on campus, we decided to change our design to another character in the Star Wars universe."
According to an email to alumni explaining the decision over their reunion party, slated for June, the issue is the "origin of this word and its connections to early- to mid-20th century Germany."
Heat Street points out the absurdity of it all in weighing in on the issue:
According to StarWars.com, the allusion to Nazi "brownshirts" is not necessarily intended, but filmmakers were moved by propaganda newsreels showing Nazi storm troopers moving together in formation. The "iconic image of Fascism" inspired, at least in part, the Stormtroopers of the Empire.

But while Stormtroopers do play the role of evil henchmen in the films, even the most ardent social justice warriors seem to recognize that they're merely fictional characters. In fact, the single largest costuming group of Star Wars fans, the 501st Legion, is almost entirely Stormtroopers.

At least Princeton alums are now safe, however.
Read the Daily Caller article; read the Heat Street article.
MORE: College's 'Zoolander 2' screening canceled because movie mocks 'marginalized identities'
Like The College Fix on Facebook / Follow us on Twitter