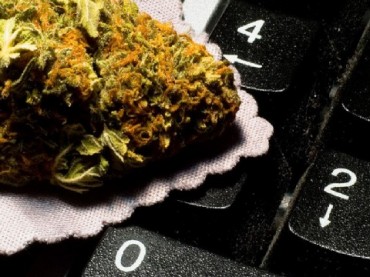 Touting marijuana as "one of the fastest growing industries in America today," a university has launched in Colorado that bills itself as the nation's only college accredited by state officials to teach students how to grow and sell cannabis.
Clover Leaf University
debuted earlier this year with the blessing of the Colorado Department of Education's Private Occupational School Board. It offers stand-alone classes and certification courses.
         Campus leaders described the endeavour as "an early stage specialized education enterprise focusing on raising awareness, research and development, best practices, regulatory compliance, and product and consumer safety" in a statement to CBS News.
The university's curriculum tackles a variety of aspects within the legal weed industry, including management, laws, finance, marketing, cultivation, and industry analysis, according to its Spring 2014 catalog.
Classes are held at the Denver-based Auraria Higher Education Center, which also houses the University of Colorado – Denver, Metro State University, and Community College of Denver.
Clover Leaf's website states online courses and webinars are "coming soon." Its Facebook page notes the college recently hosted a four-hour "recreational marijuana law and regulations" accredited course on campus July 15.
Upcoming certification classes on campus include a four-hour "Cannabis Cultivation" course set for Aug. 19 to be led by "master grower and breeder Adam Dunn from THSeeds." The class costs $211 to enroll.
On Sept. 9, a "Bud Tender" certification course will be offered, a four-hour foray into gaining "an understanding of the effects of cannabis flower, concentrate, and infusion products, and how to recommend the best ones to meet the needs of your customers," according to its online description. That course costs $106.
Professors at the university range from lawyers to accountants to business owners and botanical experts.
Campus officials did not respond to The College Fix's requests for comment, but the college's founder – Chloe Villano – has been interviewed by several local and national media outlets.
Appearing on Fox Business Network with Stuart Varney, Villano said that, since the January launch of Clover Leaf, they have had about 150 students come through their academic programs.
Course certification in "cannabis marketing" costs $299, and covers "all the laws necessary to really market your business properly," Villano said.
Students, however, will not be eligible for federal aid such as Pell grants to attend Clover Leaf University, Villano said, citing "federal inconsistencies in the legalization of cannabis business."
Students are not allowed to smoke marijuana in class.
"We're not teaching them how to use it," Villano said. "We're teaching them in a classroom setting, a professional setting, how to properly use the business, how to use the safety procedures, and how to really properly operate the business."
Villano, a prominent weed advocate and a consultant for the medical marijuana industry, added that Clover Leaf does in fact teach "consumer safety, but we don't show them how to use it."
"I don't encourage people to smoke when they come to class," Villano added, saying that if they did smoke before coming to class they wouldn't be kicked out – because it's legal to smoke marijuana recreationally in Colorado.
Blaine Nickeson, an official at the Auraria Higher Education Center, told CBS Denver "as long as they are conducting lawful activities, we don't have any desire to ban them from the campus."
Clover Leaf's website has some dead links, including information such as required course materials. Information on its "Fall 2014" courses is also absent as of mid-July.
In an April 2013 press releasing touting the university's pending launch, its officials pledged to take the effort national, stating that "as legalization of marijuana continues, Clover Leaf University is anticipated to continue expanding across the United States."
Clover Leaf even
earned airtime
on the Late Show with David Letterman, when Letterman satirically listed the "top ten courses at the marijuana university."
College Fix contributor Andrew Desiderio is a student at The George Washington University.
IMAGES: Facebook screenshots, Boo Doo (Flickr)