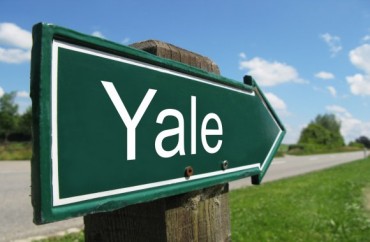 If you've spent any amount of time online in the last week, you've seen these people. They're your white progressive friends engaging in hashtag activism, demonstrating their superior virtue by tweeting things like #StopAsianHate.
The tweets, of course, reference the horrific Atlanta massage parlor shootings last week, in which six of the eight victims were Asian-American. Suddenly, white people who have never mentioned any solidarity with Asians began lecturing the public on the plight of Americans of Korean, Japanese, and Chinese descent.
Of course, these same attention-deficient activists are noticeably quiet when an issue like discrimination against Asians in college admissions is mentioned. A little over a month ago, the U.S. Justice Department quietly dropped a lawsuit against Yale University for systematically discriminating against Asian-American students in the admissions process.
Needless to say, there were no armies of virtue signalers criticizing the practice of keeping Asian-Americans out of prestigious schools simply because of their race.
No one sane would suggest violence is in any way the same as systemic discrimination in admissions. But it is often telling when progressives decide what constitutes "hate" when applied to different instances against the same race.
For one, it is unclear whether the shootings in Atlanta were even motivated by anti-Asian hate. In the statement from the shooter, he made no reference to ethnicity, and seems to have picked those massage parlors because he had previously visited them for sex.
Nonetheless, the media ran with the narrative that the shootings were racially motivated, needing to shoehorn the story into their grievance-based formula. As Andrew Sullivan noted in his newsletter last week, the New York Times ran nine stories alleging the shooting was an anti-Asian crime, with The Washington Post running sixteen stories making the same case – all with virtually no evidence other than the fact that six of the eight victims were of the same race.
Compare that with how the same papers cover blatant instances of anti-Asian racism from Ivy League schools that have determined they don't want too many people that look alike on their campuses.
When the Biden Administration revoked the anti-discrimination lawsuit against Yale, the New York Times ran a single story. So did The Washington Post.
But when the lawsuit was revoked, some equal rights groups were shocked.
"This act reveals that Biden Administration's promise to help Asian Americans fight against discrimination is just lip service," said Yukong Zhao, president of the nonprofit Asian American Coalition for Education.
As Jay Caspian Kang wrote in the New York Times a little more than a week before the Atlanta shootings, America still hasn't made its mind up about whether Asian-Americans are actually a minority that should be afforded the cultural protections as other groups. He notes that Asians are still frequently attacked by African-Americans, but those attacks are often treated as less serious.
He asks:
"We are not white, but do we count as 'people of color'?" (Not according to the newer literature around school equity, which increasingly doesn't include Asians when discussing diversity.) When people say 'Black and brown folk' do they also mean yellow? (Probably not.)"
Kang also notes the case of Lowell, San Francisco's most prestigious public school, where merit-based admittance has been scuttled. The school is predominantly Asian, with many kids coming from working-class Chinese families.
Kang says:
For some Asian-American families in San Francisco, the change amounted to discrimination, not from right-wing politicians or white supremacists, but from the liberals who were supposed to be on their side. This change, juxtaposed with the recent attacks, expose, in microcosm, the deep, discomforting tension that sits at the heart of progressive politics around race: Why would we give up our spots at selective schools to benefit the same people who attack us in the streets? And more broadly: If we are the natural enemy of equity and racial progress, then why should we support it? Is the pursuit of a more equitable America a zero-sum game?
This is all, of course, too complicated for those out there participating in the sympathy sweepstakes, begging fellow social media users to realize how much more intensely they care about racial justice. Ask them, for instance, about the plight of the citizens of Myanmar, where peaceful protesters are being shot and killed by a military junta, and their eyes will likely glaze over.
But a sound rule of thumb is to call discrimination what is is across the board. If you believe the Atlanta shootings were racially motivated, then you should also be outraged when Asian students face discrimination when trying to enter college.
You could even use the same hashtag.
MORE: Department of Justice sues Yale University for discrimination against white and Asian applicants
IMAGE: Shutterstock
Like The College Fix on Facebook / Follow us on Twitter