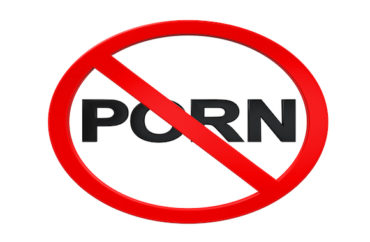 Catholic universities allow porn on school networks; students demand change
Activists at two Catholic universities are petitioning their schools to censor pornography on campus, claiming that explicit sexual content on the Internet runs contrary to the schools' values and poses a health risk to students on campus.
Amelia Irvine, a senior at Georgetown University, recently began efforts to have the Jesuit school install a porn filter on its university network. The Daily Beast reported that Irvine is considering a petition effort this semester.
In an interview with The College Fix, Irvine criticized the school for its lax approach to pornographic material on its network.
"In the United States, three of the top ten most-visited websites are pornographic. Internet porn use is quite common among young people; a March 2017 study found that 10 percent of college students are clinically addicted to cybersex," Irvine said.
"Georgetown seeks to educate its students on the harms of alcohol abuse and sexual assault, but completely ignores the addiction that can fuel sexual assault: pornography addiction," Irvine added.
"To correct this enormous oversight, Georgetown should install a porn filter on campus WiFi and publicize the harms of pornography. Of course, students and faculty would still be able to access pornography using their cellular data or by working around the WiFi filter, but a porn filter would give Georgetown the opportunity to make the moral case against pornography use," Irvine added.
Catholic university appears to endorse pornography use
At the University of Notre Dame, meanwhile, student James Martinson is leading the fight for pornography censorship there.
The College Fix previously reported on Martinson's efforts to have the school filter pornography on its network. "Our goal … is to help students realize how damaging pornography consumption is to your physical and psychological well-being," Martinson told The Fix last semester.
Martinson says now that his group is focusing on multiple avenues to addressing pornography at the school. "We're still in discussions with the University and are at the same time exploring other pathways of enacting this kind of change at Notre Dame," he told The Fix.
"Students [elsewhere] have been asking me to get something similar done at their schools," Martinson said.
He added that numerous national news outlets have contacted him about his efforts. "This kind of exposure has allowed so many people to think differently about how many students feel about pornography consumption and how it affects individuals, relationships and campus communities," he said.
Notre Dame did not respond to The Fix's requests for comment on its porn policy. The website of the school's counseling center, however, does offer resources for those addicted to pornographic material.
Curiously, the counseling center's website appears to at least tacitly endorse consumption of pornographic material. A series of "pornography reduction strategies" on the site advises students to "set a limit of using porn no more than once per day" and "use porn only on pre-selected days of the week." (In contrast, the school offers materials explicitly geared toward quitting smoking rather than merely reducing tobacco consumption.)
Watchdog group says schools shouldn't censor
According to The Daily Beast, the Foundation for Individual Rights in Education, a campus watchdog group, would give any university that censored pornographic material a "red light" rating.
"Most pornographic, sexually explicit, and offensive material is protected under the First Amendment. As such, any institution that claims to protect free speech should not treat pornography substantially different than other protected speech," a spokesman for the group wrote.
Last semester, Notre Dame student Jeffrey Murphy wrote an opinion piece to the school's newspaper, titled "Give Me Pornhub or Give Me Death," in which he argued against Martinson's efforts to have Notre Dame go porn-free.
"The relationship between the codified suppression of sexually-oriented material and the subordination of women extends well into the modern era (and will inevitably persist into the future)," Murphy wrote, pointing out that numerous countries that censor pornography, such as Afghanistan, nevertheless have poor track records on women's' rights.
"Giving any governing body — even a private entity not bound by the First Amendment — the subjective power to determine what content is or is not permissible has never, and will never, lead to prosperity for the intended beneficiaries of such censorial measures," Murphy added.
Irvine, in contrast, told The Fix that Georgetown is obligated to block sexually explicit material on its campus networks.
"Georgetown, as a private, Catholic institution, has not only the right but the duty to take a stand against pornography. Pornography is not speech or art; pornography is a drug," she said.
Martinson agreed. "This kind of issue at Notre Dame should be a no-brainer," he said.
MORE: Sociology prof warns: Internet porn leads to 'cheap sex'
MORE: Porn star gives college students 'Intro to BDSM' training
IMAGE: Nerthuz / Shutterstock.com
Like The College Fix on Facebook / Follow us on Twitter