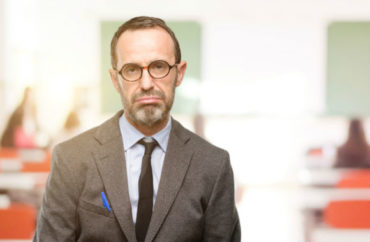 OPINION: A rebuttal to Professor Asheesh Kapur Siddique's Teen Vogue op-ed
On May 19, University of Massachusetts Amherst history Professor Asheesh Kapur Siddique, who has developed a penchant for feuding with conservative college students on Twitter, published an op-ed in Teen Vogue arguing that "universities are right-wing institutions."
Siddique's piece rightfully drew mockery from conservatives. He argues that universities lean to the right because they are controlled mostly by boards of regents and trustees who have corporate backgrounds.
The first problem is his broad definition of what constitutes the right. In Siddique's mind, anyone who does not support the abolition of the profit motive is right-wing.
A background in Goldman-Sachs, to use an example of Siddique's, does not automatically make a conservative. Then-CEO of the company Lloyd Blankfein publicly endorsed Hillary Clinton in 2016, and former president Harvey Schwartz gave Joe Biden's campaign $100,000 in 2020.
Siddique does not sufficiently prove that these corporate, supposedly right-wing boards, are curtailing the academic freedom of leftist professors.
The only specific case he mentions of a board intervening in the tenuring of a professor is that of the UNC-Chapel Hill Board of Trustees' declining to give Nikole Hannah-Jones a tenure-track position in its journalism school due to conservative backlash.
But Siddique neglects to mention the context of that decision. Hannah-Jones will still receive a five-year contract to teach critical race theory to UNC students, despite the shoddy scholarship of her magnum opus, the 1619 Project.
But Siddique's argument fails even if we accept his faulty premise.
Siddique mistakes control of university budgets for the greatest influence that institutions of higher education hold on the country. The regents are not the ones teaching the students.
He dismisses surveys like the Harvard Crimson's, which found that conservatives make up less than 3 percent of the university's faculty. He disingenuously asserts, "Partisan political preferences have little to do with the production of academic knowledge or the day-to-day workings of the university — including what happens in classrooms."
Readers of The College Fix will immediately realize the foolishness of that statement. Professors, in their roles as teachers, have far more influence over their students because of how much more time students spend in the classroom than in board meetings, as Bill Buckley argued in "God and Man at Yale."
I would challenge any college student to, off the top of his head, name all the people serving on his university's Board of Regents. I would ask any alumnus to do the same at the time of his graduation. Personally, I have been steeped in the politics of the University of Michigan for the past two years, and I can only name about three UMich regents without looking them up.
The divisive, anti-American philosophies that professors impress upon their students display the massive role left-wing universities have in shaping the future of the country.
In the riot-filled summer of 2020, Young America's Foundation partnered with Townhall to take a poll of how in-touch American youth were with their patriotism.
Their cooperation produced the most illustrative evidence of campus indoctrination in years.
The poll found a massive disparity in feelings of patriotism between high school and college students: 70 percent percent of high school students reported having "a favorable view of American history," compared to only 44 percent of their college peers. In high school, 63 percent of students feel "proud of America," while the number drops to 40 percent in college.
It is important to call out false narratives that influential people feed to the public. Pieces like Siddique's feed into the ability of colleges to masquerade as unbiased bastions of learning, when, in reality, they are anything but.
Only when people see higher education for what it is will they hold universities accountable and return them to their original ideal.
MORE: Top 40 universities refuse to address survey showing campuses dominated by Democrat professors
IMAGE: Aaron Amat / Shutterstock
Like The College Fix on Facebook / Follow us on Twitter