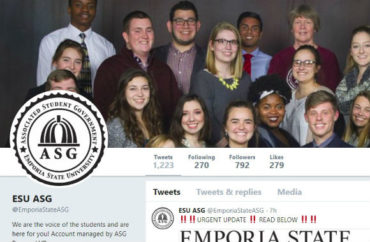 Mad at university for not addressing 'hate' online
Student government officials who threatened to impeach one of their leaders for using the phrase "illegal aliens" have backed off, citing fears for their "safety and wellbeing."
They are also afraid of being sued for First Amendment violations.
Senators lashed out at Emporia State University administrators Wednesday night for not responding to the "hate" directed at them for the impeachment threat, according to The Bulletin student newspaper.
Associated Student Government executives, including the official threatened with impeachment, also canceled Thursday night's scheduled senate meeting after moving it to a different location.
President Michael Webb and Vice President Michaela Todd blamed the cancellation on "serious concerns for the safety and well-being of the campus and community," without specifying threats.
The Diversity and Inclusion Committee cited the same concerns when it rescinded its impeachment threat.
"[W]e did not intend to make Vice President Todd feel isolated in her community" by telling her to resign or face impeachment, it tweeted Wednesday morning, though the statement was dated Tuesday.
Hornet Nation, please read the new important statement below. pic.twitter.com/UdIVRyxQFM

— ESU ASG (@EmporiaStateASG) November 14, 2018
Todd had shared the platform of Kansas Republican gubernatorial candidate Kris Kobach on her Facebook page, which includes withholding welfare from "illegal aliens."
Though she quickly deleted the post and apologized for using a "technical" term that upset students, Todd's political statement spurred a school-wide backlash.
Impeachment supporters changed their mind, however, after meeting with General Counsel Kevin Johnson and another local attorney, The Bulletin reported.
"Our biggest fear right now is if we, as a senate, move forward to impeach [Todd], we're going to be hit with a lawsuit," Ariana Williams, committee vice chair, told a committee meeting Wednesday.
"It is important that what is learned from this episode is that Michaela had every right to her opinion, and she used appropriate language in statute law [sic] regarding illegal immigration," History Prof. Gregory Schneider told The College Fix in an email.
"She used no racist [epithets] to describe anyone" and "should not have been singled out for any ill treatment due to her comments," he said. Threats to free speech on campus "is one of the greatest problems we face as college faculty."
Todd has not responded to Fix requests for an interview since she was threatened with impeachment.
MORE: College Republicans deemed racist for noting murderer is illegal alien
More than 25 students crying at the same time over social media criticism
Most of the Associated Student Government's senate voted to impeach Todd last week but fell short of the required two-thirds majority.
The diversity committee said it wasn't "trying to censor" her conservative views but claimed they were "tinged in hatred and dehumanization" and should not have "a home" on campus.
But Todd refused to resign on Monday night, the deadline the committee had given her, and her supporters apparently flooded impeachment supporters with negative comments.
The Diversity and Inclusion Committee's Wednesday tweet explained its rationale for dropping impeachment, and expressed its concern that Todd's critics would "feel that their voices were invalid." But it didn't directly apologize to Todd.
"We wanted to make the systemic issues on campus more visible and be voices for marginalized students," it read. "Diversity, equity, and inclusion is a complex issue and even as a committee we are still learning how to navigate the intricacies and intersectionalities."
Senators and other students did not express even implied apologies to Todd at Wednesday's meeting, however.
Kara Dubois, who is not listed as a senator, criticized the committee for saying Todd "was isolated" when in fact "she was isolating a group of people that are already isolated because they are minority students," the Bulletin reported.
Michaela cannot be unimpeached after being impeached. Just like the post she made is permanently online, the impact the lives she carelessly disrespected and disregarded and the consequences of her actions cannot be undone. She does have the option of resigning her position up –

— Kara Dubois (@karachristine12) November 9, 2018
MORE: Student diversity officials promise impeachment for 'illegal aliens' remark
More than 25 students were crying at the same time during the meeting, as well, "based on their fears for personal safety and lack of response from the administration."
They included the chair of the diversity committee, Kim Nguyen, who left after less than a minute because she "couldn't read her documents" while crying.
It's not clear how serious the alleged threats were against students who supported impeachment.
The most specific threat relayed by the Bulletin came from student Madi Alford. "People [are] telling us they're going to slash our tires, talking about lynching us," she said.
Addressing administrators at the meeting, Alford continued: "Are you as ESU prepared to tell my mom when I am lynched in a tree somewhere that that was okay because no administration has stood up?"
Another non-senator, Kayla Gilmore, said her "identity is on a public format, on a YouTube video, that has over 100,000 followers and got over 51,000 views in less than 24 hours leading to my Facebook profile that is now being circulated" (below).
But she didn't claim she was threatened. The way people online talk about her, black people and undocumented students "is simply ridiculous," she said.
'Backing down would be doing [conservative students] a disservice'
Todd said she didn't tolerate the "retaliation" against impeachment supporters at Wednesday's meeting, and she has repeatedly apologized for her post, claiming it was not intentionally public.
She did it again on Fox and Friends Thursday morning, after the impeachment effort was junked. "I wasn't trying to be derogatory or dehumanizing to anybody, so I've apologized and said it was never my intent to hurt anybody."
But Todd continued that she had "a lot of students come out and support me in this when people were attacking me," particularly conservatives who "haven't felt like they've been able to voice what they believe in at Emporia State. And so I feel like backing down would be doing them a disservice."
She thanked the university for its "hands off" approach, which made it a "very good learning experience" for Emporia State student leaders.
Asked about possible legal action had Todd been impeached, an administration spokesperson played down its role in the shelved impeachment effort.
"The university encouraged Associated Student Government to study the issue and determine appropriate next steps," according to a statement given to The Fix by Kelly Heine, executive director of marketing and media relations.
"Associated Student Government has resources at its disposal to make an informed decision, understand the ramifications of its actions, and plan a constructive path forward," read the statement, which was given to other media outlets.
Heine did not answer how the administration's hands-off approach may have affected the student body's safety fears.
MORE: University of Colorado-Boulder helps you avoid phrase 'illegal aliens'
IMAGE: ESU ASG/Twitter
Like The College Fix on Facebook / Follow us on Twitter