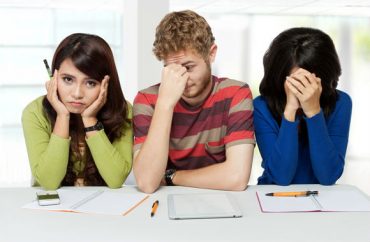 Afraid they'll invite alt-right transphobes to campus
Wichita State University's student government will recognize a newly formed libertarian student organization, an about-face from its rejection of the club earlier this month.
Student senators had blocked official recognition of the Young Americans for Liberty (YAL) chapter because of its "dangerous" free-speech agenda and the "hateful behavior" practiced by the national organization.
The senate's decision drew nationwide scorn, with the Foundation for Individual Rights in Education (FIRE) warning the administration that the senate's move violated the First Amendment.
A student senator still wants to censor the new chapter, asking colleagues in a senate meeting Wednesday how they would be able to block "transphobic" speakers if they allow YAL on campus.
YAL is perhaps best known for some of its chapters sponsoring appearances by Milo Yiannopoulos, the gay anti-feminist provocateur.
'You discriminated against them'
The student government's six-member judicial body unanimously overruled the senate, saying the chapter's viewpoints were protected free speech and the public university's bylaws explicitly prohibit blanket bans of organizations based on their affiliation.
Its decision prompted vigorous debate about 26 minutes into Wednesday's senate meeting.
MORE: Student government rejects YAL chapter because it's 'dangerous'
Vice President for Student Affairs Teri Hall, who filed the complaint with the Supreme Court, told student senators they had "violated everything you're supposed to stand for as student government," according to an archived video of the meeting.
"You talk about not discriminating … and you discriminated against them."
"What if they invite a speaker from an alt-right entity … where they express white supremacist ideas and transphobic thoughts," Sen. Debbie Ojeda asked Hall. "How can we stop that from happening? Because I see this as being a disaster for this university."
Hall said speakers come to campus "all the time" that students "may not want us to bring," even those less controversial than YAL, but Wichita State is "built on" freedom of speech. The administrator asked Ojeda not to judge this chapter for the actions of other YAL chapters.
"I'm not judging," said Ojeda. "I think you are," Hall replied.
"I'm just scared," Ojeda said, citing legislation allowing concealed carry on campus starting in July. "As a queer student of color, I'm afraid."
KKK, Neo-Nazis, Young Americans for Liberty all in same league
Ojeda wrote on Facebook Saturday that she didn't expect "those who are privileged to understand" her view that YAL "is against our very existence."
"In my 29 years, this has been the hardest sense of minority stress I have ever experienced,"  Ojeda wrote in an op-ed in The Sunflower Friday. After YAL was approved, she came home "in tears."
She also wrote that Hall had made her feel "blatantly disrespected" and said it was Hall's "choice to override the decision." The administrator is not a member of the Supreme Court.
YAL is like "other hate groups like the Klu Klux Klan [sic], Neo Nazis, and the Westboro [Baptist] Church," Ojeda wrote. "They use freedom of speech as a tool to condone violent language toward minority groups."
She angrily responded to Hall's comparison of the senate rejecting YAL to its hypothetical rejection of Wichita State's existing Muslim Student Association (MSA), which also faced opposition when it came to campus.
MORE: Student government restricts who can use inclusion pledge
Such a comparison "adds a layer of racial injustice," Ojeda wrote. "Those who are vehemently against MSA because of its 'ties with a terrorist organization' are being racist and Islamophobic – it is different from my opposition of [sic] YAL."
She had told the senate about 36 minutes into the meeting that "being Muslim doesn't make you dangerous," which started a three-way argument among senators.
Hall's comments on MSA may have touched a nerve with student senators. Last month the administrator fought off accusations that she had suggested Muslim students wash their feet in a janitor's closet before prayer, in response to their request for a special "wash station."
Ojeda did not respond to a Facebook query from The College Fix to elaborate about the difference between YAL and MSA.
Its agenda is helping you understand the tax code
YAL found an outspoken ally in Paul Raymond after the student senator attended one of the chapter's meetings earlier last week. Some members were LGBTQ, he noted at the senate meeting.
"[H]opefully their intentions are not to undermine their own identities for the sake of an agenda," said Raymond. They planned to take advantage of tax-filing season to "educate students about the United States tax code," he told senate colleagues.
"There seems to be a shift in campus culture," YAL Wichita State founder Maria Church told FIRE. "We are encouraged by this small win, but there is still work to be done. At Young Americans for Liberty, we are committed to fighting for the First Amendment on campuses across the country."
Embattled @YALiberty chapter at Wichita State is finally free to engage in on-campus activism as a registered group. https://t.co/C3lydQFCaf

— FIRE (@TheFIREorg) April 14, 2017
MORE: Student government threatens paper's budget for publishing crime reports
Like The College Fix on Facebook / Follow us on Twitter
IMAGE: Odua Images/Shutterstock