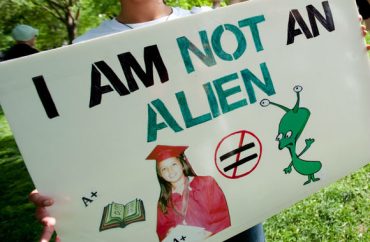 UPDATED
Announcement still suggests children of gay parents are eligible, too
All Pomona College students pay $355 a year to fund the student government and its programs.
But only a few favored categories of student will enjoy the benefits of those fees when it comes to a new "airport rideshare" program for freshmen and transfer students.
Associated Students of Pomona College wrote on Facebook Saturday that free rides from the airport to campus around move-in day would be limited to students who are in the country illegally and those shielded from deportation under the federal Deferred Action for Childhood Arrivals program.
The program also covers "low-income, first-generation … mixed (immigration) status family, and/or 'non-traditional' family structure backgrounds." It does not define what "non-traditional" means, but the term has often been applied to children raised by homosexual couples. (International students are covered by a different program.)
"Please respect this and your future classmates' needs and experiences," the post reads, promising that "all students" will receive the free rideshares their mandatory fees paid for at some point in the future. Pomona is a member of California's private Claremont University Consortium.
The Claremont Independent reports the application form for free rideshares was also posted to the Class of 2021 Facebook page:
It is unclear why students from immigrant backgrounds, including those in the EB-5 Immigrant Investment Program, or "non-traditional" families, require special assistance in procuring transportation to campus from area airports. In its announcement of the program, ASPC did not provide details as to how it would determine which students seeking free rides do in fact belong to the specific groups it declared to be eligible for the service.
The "non-traditional" category confused one student, sophomore Matthew Ludlam, who told the Independent that the student government needs "better parameters" for eligibility and that "hidden costs" can present financial challenges to middle-income students as well.
ASPC President Maria Vides later clarified in a comment on the student government's post that "non-traditional" refers to "students whose parents can't travel with them to campus. It doesn't necessarily constitute low-income students only."
As of Monday night, the ASPC post itself still does not define "non-traditional."
Read the ASPC post and Independent article.
UPDATE: The Independent said it incorrectly reported the status of the post about the program to the Class of 2021 Facebook page. It remains posted but is not visible to some Facebook users. ASPC President Maria Vides also answered a question by a commenter on the student government's Facebook post, clarifying what "non-traditional" means. This post has been accordingly amended.
Like The College Fix on Facebook / Follow us on Twitter
IMAGE: Ryan Rodrick Beiler/Shutterstock