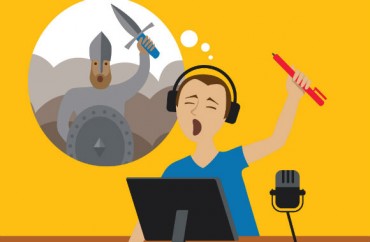 'Deeper corruption waiting to be uncovered' when a college is so intrusive
When an Iowa college administrator rebuked the student newspaper for publishing his mugshot without permission, he probably didn't think he was kickstarting a national movement.
National journalism organizations established "The J-Team" last month to train student journalists against suppression attempts by college administrations.
The move follows Muscatine Community College's crackdown on The Calumet, which led the editors to sue the school and start an independent paper.
The J-Team is a collaboration among the Student Press Law Center (SPLC), Society of Professional Journalists (SPJ) and Investigative Reporters and Editors, according to a joint press release.
The groups did their first "boot camp" training Aug. 28 near Muscatine, at the University of Iowa's Daily Iowan newsroom, and invited all student journalists in the state, SPLC Executive Director Frank LoMonte told The College Fix in a phone interview.
The joint release says the groups will give "ongoing assistance throughout the school year" to student journalists at Muscatine "to help bring investigative reporting projects to completion."
#jteamiowa has landed, teaching student journalists to watch over the campus like a Hawkeye. pic.twitter.com/ghPUHCW6JC

— Frank LoMonte (@FrankLoMonte) August 28, 2015
Though Muscatine couldn't fire The Calumet's adviser, English Instructor Jim Compton, because of tenure, he was "repositioned" and removed as adviser after the paper wrote stories "questioning the award process of a scholarship that … always seemed to go to those on campus who are politically connected," LoMonte said.
LoMonte said the spat over Dean Rick Boyer's "official mugshot," which was followed by other administration actions against the paper, shows how perilous college reporting can be.
"At smaller colleges where journalism isn't regarded as a revenue generator … it is regarded as nuisance rather than an asset," LoMonte said.
Muscatine is "obsessed with their image," he continued. "When a university is that concerned about suppressing media there is no doubt that the university has deeper corruption waiting to be uncovered."
Super-practical reporting tips from @EWAEmily: Talk to everyone on campus, including TA's and janitors. #jteamiowa pic.twitter.com/IIHiWCroc7

— Frank LoMonte (@FrankLoMonte) August 28, 2015
'I'm timid to write what should be written about'
Jessica Gomez, the current editor-in-chief of The Calumet, told The Fix in a phone interview it's been tough to add new staff to the paper since the administration switched the time of their course offerings, which are required to join the paper.
The environment on campus has been different since Muscatine started interfering with the paper, Gomez said. "There is just a negative aura about it when there shouldn't be," she said. "I'm timid to write what should be written about."
Since the Aug. 28 training, Muscatine student journalists are better equipped to battle an administration that's trying to strong-arm them, Gomez said.
"They informed us about what universities are not able to do. They trained us on how to research and how to find things that are on the public record, things that are harder to find," Gomez said. She's glad that the J-Team will work as mentors to her staff on future stories.
"We are the school's only media outlet – how else would people know what is going on?" she said. "Otherwise, a school would be able to do whatever they want to do."
Mark Horvit, executive director of Investigative Reporters and Editors, told The Fix in a phone interview his group "had been talking some time" with SPLC and SPJ about the "increasing number of cases [in which] universities are cracking down on publications if these publications are reporting negatively."
"Stick of dynamite option": publish the salaries of the college PR people who are being paid not to answer questions. @EWAEmily #jteamiowa

— Frank LoMonte (@FrankLoMonte) August 28, 2015
Cracking down on college journalism goes beyond campus, impacting the journalism profession in the long run, Horvit said.
"These students are going to continue in their field when they move on from their universities, and they need to know their rights," he said.
"It sends a bad message, it tells students exactly what we don't want them to think: If you report fairly, accurately and sometimes aggressively about the institutions you cover, sometimes people will get mad, and that doesn't mean you should stop doing what you're doing," Horvit said.
Like The College Fix on Facebook / Follow us on Twitter
IMAGES: Olga Zelenkova/Shutterstock, Rick Boyer/LinkedIn