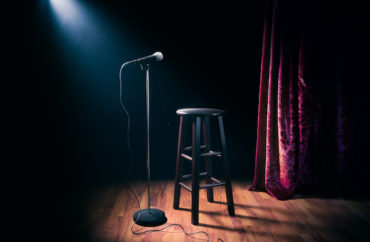 The stand-up also allegedly 'sucked the energy out of an entire auditorium'
A student writer is arguing that the decision to yank a comedian from the stage after he told an offensive joke was justified, claiming that the stand-up exhibited "anti-blackness" and he also wasn't very funny.
Nimesh Patel had his microphone cut off during a performance at Columbia University after telling a joke about a gay black man from Patel's neighborhood. In the joke, Patel claimed that homosexuality couldn't possibly be a choice, as "no one looks in the mirror and thinks, 'this black thing is too easy, let me just add another thing to it'."
Patel was subsequently kicked off the stage. But one student writer says that the decision to interrupt Patel's routine went beyond his allegedly offensive joke.
"[N]ews articles…give the impression that Patel told some controversial jokes that caused PC outrage, but the performance was just a trainwreck," writes Liberty Martin at The Columbia Spectator.
"Patel's mic wasn't just cut off because he told offensive jokes to a sensitive, snowflake audience, which is the narrative that I see being talked about. He was booted off the stage because he sucked the energy out of an entire auditorium," Martin writes, claiming as well at Patel exhibited "blatant anti-blackness" during his routine:
While Patel started with strong laughs, he soon hit a controversial joke that earned mixed reactions. Instead of moving on, Patel warned us that he's from an older generation (this guy is only 32), and then delivered the usual condescending and presumptuous spiel about how we need to learn about the "real world." I thought, "Relax, you just got on stage." Patel presented himself as arrogant and almost contemptuous toward the audience he was meant to entertain. Later, he even said, "Well, I'm already paid," setting the tone of his performance.

The atmosphere throughout the remainder of the routine was uncomfortable with a few occasional laughs. While it's normal in stand-up to pick an audience member to dialogue with, Patel just kept returning to the same girl to ask her painfully drawn out questions, as if he were mining material for a routine he had not prepared. He asked another audience member personal questions about their parents in a room full of strangers. To me, his routine was strangely obsessed with Black people, my favorite part being when he questioned why there was so much online outrage that Black actors weren't nominated at the Oscars in 2016, but not for Asian actors. Patel's anti-Blackness jumped out: The hashtag was #OscarsSoWhite, not #OscarsNotBlack.
Of Patel's controversial gag itself, Martin writes that it was "a tired joke, the punchline being marginalized struggles about which he has no true insight."
"I watched a brown man use the experiences of Black people to make white people ponder and laugh while two of my gay Black friends cringed," Martin adds.
MORE: Comedian yanked from Columbia U. stage for 'offensive' jokes
IMAGE: Fer Gregory / Shutterstock.com
Like The College Fix on Facebook / Follow us on Twitter