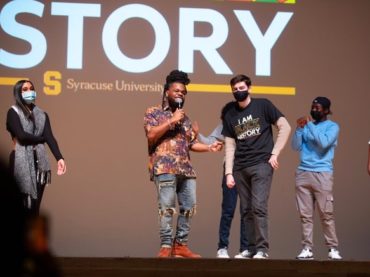 The editorial board of the Syracuse University student paper this week took the brave position that it was "out of touch" for the Student Association president to wear a shirt at a recent event emblazoned with "I am Black History."
Because he is white.
At the February 1 Black History Month Kick-Off, SA President David Bruen, like many others, donned one of the shirts that were available for anyone at an event table.
"But as a white person wearing the shirt proclaiming to be Black history, Bruen stood out," the Daily Orange editors say. "By wearing this shirt, he minimizes the unique experience Black people have had in America and on SU's primarily white campus."
Bruen's shirt didn't seem to bother event emcee Emmanuel Hudson who called Bruen a "comrade" and told the crowd to "show [Bruen] the love and support that we give for each other." This, despite Hudson kind of doing a double-take upon seeing what Bruen was wearing.
To help bolster their case (such that it is), the editors claim Bruen (who uses "he/him" pronouns according to his Twitter bio) is an illegitimate office holder.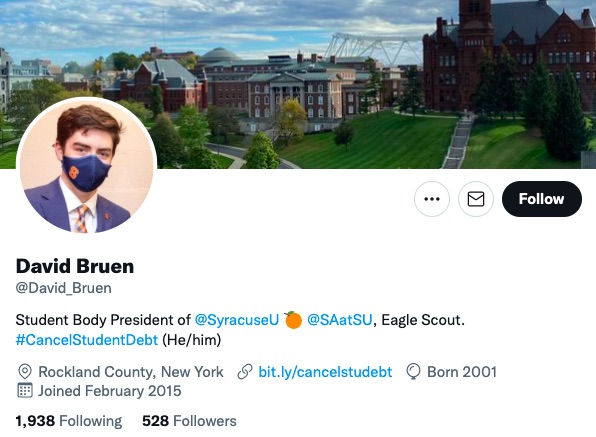 MORE: Student paper editorial: Not requiring HS African-American history course is 'black erasure'
"The Student Association president should be chosen by the students and representative of the entire student body," they write. "Bruen ran unopposed, with only of 10.2% the undergraduate student population voting in the election, just 0.2% over the 10% necessary to win."
Bruen should have realized that this shirt was inappropriate for him to wear as a white student. It felt performative and was a poor judgment call. Even if he didn't realize the perceived connotation created by him — a white man — wearing the shirt, it just shows his lack of intention.

Although Bruen's shirt was just one person's example of the performative action taken with the attempt of supporting Black students at SU, this issue delves deeper into the lack of support our primarily white institution has provided to its Black students. …

Bruen's shirt represents the lack of awareness and intentionality on the part of the white people in positions of power at SU. The Daily Orange Editorial Board urges those in charge to make change to support Black students. Actions speak louder than words.
Bruen later apologized for wearing the shirt, telling the paper in retrospect it could be considered "poor taste."
"My intention is and has been to support our Black and Brown students on campus, especially as a leader of a predominantly white organization on a predominantly white campus," he said.
MORE: Emory U. student paper editorial: It's time to 'rethink' free speech
IMAGES: Daily Orange, David Bruen Twitter screencaps
Like The College Fix on Facebook / Follow us on Twitter