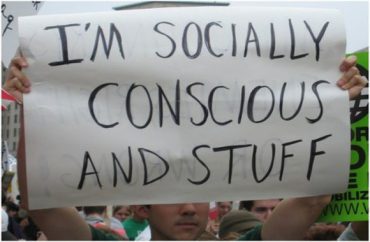 The editors at the Emory University student paper want campus officials to "rethink" the institution's free speech policies, due to what recently transpired at Syracuse University.
In an editorial posted last week, the powers-that-be at The Wheel claim Syracuse officials' "blatant obstruction" of student protesters' "right to free expression" is an "injustice" that "raises significant questions" about Emory's guidelines.
The "right to free expression" at Syracuse, according to the editors, includes occupying an administrative building. And the "blatant obstruction" of such is ordering the suspensions of participating students (which were promptly lifted, by the way).
"Only threats of immediate bodily harm should permit universities to assert their authority over protesters," The Wheel argues.
The editors further contend that Syracuse officials' actions against the occupiers were even more malevolent given their "inadequate" investigations of numerous hate/bias incidents: "Unless the university can prevent further incidents of bigotry, such events will continue."
Faced with comparable incidents, Emory has failed as well. In 2014, the Alpha Epsilon Pi fraternity house was vandalized with anti-Semitic symbols shortly after the end of the Hebrew holiday of Yom Kippur. While the administration took steps to punish those involved, it did not adequately heal the community as further bias incidents occurred in the following weeks. Similarly, last year, Emory Students for Justice in Palestine's "die-in" and associated protests rocked our community. …

The events at Syracuse should push Emory administrators to rethink their application and interpretation of the Open Expression Policy on student protesters. The Syracuse administration did not use the correct tools to deal with the extreme racial bias incidents and rebuked students who were justly highlighting the administration's poor response. Emory's analogous past mimics a larger trend on college campuses across the nation that must be addressed. If our administration truly values students' right to express themselves freely, it must protect future student protesters by equitably and impartially applying policies that regulate free speech.
In summary: Unless and until university officials stop hate incidents on campus, and/or "adequately" heal the student community following any such event, students should be permitted to demonstrate as they wish.
Just don't inquire as to how universities are supposed to thwart each and every idiot who scrawls a racial slur somewhere (including those done by a member of a "marginalized" group in order to "start a conversation"), and especially the definition of "adequately healed." For, if the editors were honest, the responses would be "there's no way they can" and "whatever we say it is."
MORE: Professor calls free speech 'racist'
MORE: College women, blacks favor 'inclusivity' over free speech
IMAGE: Sam Felder / Flickr.com
Like The College Fix on Facebook / Follow us on Twitter