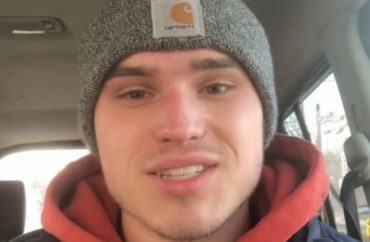 A student who was suspended from his public university's education program for an Instagram video in which he stated "a man is a man and a woman is a woman" has been reinstated by administrators.
Owen Stevens confirmed Wednesday to The College Fix that SUNY-Geneseo has allowed him to continue his education.
"Universities should be a market place of ideas, not an assembly line for one type of thought," he told The College Fix via email. "Instead of policing speech on social media platforms, they should be engaging in educating future world leaders."
SUNY-Geneseo media affairs division did not respond to repeated emails and phone calls Wednesday and Thursday from The College Fix seeking comment.
The crux of the controversy centers on a one-minute November 22, 2020, Instagram video in which Stevens stated in part:
"A man is a man. A woman is a woman. A man is not a woman. And a woman is not a man. A man cannot become a woman and a woman cannot become a man. If I am a man and I think I am a woman, I am still a man. If I am woman who thinks I'm a man, I am still a woman. Regardless of what you feel on the inside is irrelevant to your biological status. It doesn't change the biology."
In response, the president of the university sent a memo to the campus community pledging allegiance to promoting social justice.
According to a suspension letter subsequently sent to Stevens, reported by the Daily Wire, it was stated that Stevens — who is studying to become a teacher — can't protect the "mental and emotional well-being of all" students in his classes, adding:
You continue to maintain, "I do not recognize the gender that they claim to be if they are not biologically that gender." This public position is in conflict with the Dignity for All Students Act requiring teachers to maintain a classroom environment protecting the mental and emotional well-being of all students.
Stevens was blocked from continuing his coursework until he took down his Instagram videos, toned down his social media presence, and attend school-sanctioned training, the Wire reported.
But the university has vastly eased up on those requirements, according to reinstatement documents obtained this week by the Daily Wire, which state he now only must "review the state's 'Guidance to School Districts for Creating a Safe and Support School Environment For Transgender and Gender Nonconforming Students' documents and must 'self-monitor' his social media posts to 'ensure that he presents himself in a professional manner.'"
Stevens summed up the development on Instagram thusly: "I win."
But the war may not be over.
In his statement to The College Fix, Stevens said that "Although this situation was mended, they still have not changed their destructive policies. We [Stevens and his legal team] will be taking every action necessary to get these policies changed legally."
MORE: Feminists critical of transgender ideology more hated than conservatives
IMAGE: Instagram screenshot
Like The College Fix on Facebook / Follow us on Twitter