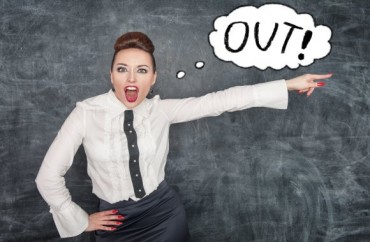 UPDATED
First, he was thrown out of class. Then he was suspended for three weeks. Now he's been expelled.
The student who argued with his teacher about the number of human genders will not be coming back to Mearns Academy in Scotland, according to a report in the Evening Standard.
The student, "Murray," confirmed the news via an interview with a YouTuber on July 1. The video includes a Fundly link to assist Murray "with whatever he needs, which may include finishing his diploma at a private institution, tuition for college, or even rent and other basic expenses."
Currently, a little over $2,600 has been raised out of a requested $10,000.
Murray said that, after the exchange went viral, his mum called to say the school had been in contact and "they were not happy".

During a meeting with Murray and his mum he said the school "emphasised that I wasn't getting into trouble for what I said but for recording a teacher, which is fair enough because its [sic] a known rule not to record your teacher."

He said they suspended him for one week and told him he would have "strict rules on his phone use" from that point on.

He said they later extended the suspension by another two weeks and told him he could return after the summer break.

"We got called back in for another meeting and they said after having lots of talks with people higher up they said it's not ok for me to finish my education at that school effectively and they told me there's no chance I can return," he said.
However, an Aberdeenshire council spokesperson said Murray was not banned from the school, just that he was too old. Or something:
"The young man in question has not been permanently excluded from Mearns Academy, but rather at the age of 17, has reached the end of his time in compulsory education," the spokesperson said. He added that staff are "working hard" to get Murray "a positive future placement either in further education or in an area that he chooses."
Read the Evening Standard story.
UPDATE: It appears GoFundMe took down Murray's fundraiser and it was transferred to Fundly.com. The article has been updated to include the new link.
MORE: Teacher kicks student out of class for saying there are only two genders
MORE: Student suspended for saying there's only two genders
IMAGE: Shutterstock.com
Like The College Fix on Facebook / Follow us on Twitter