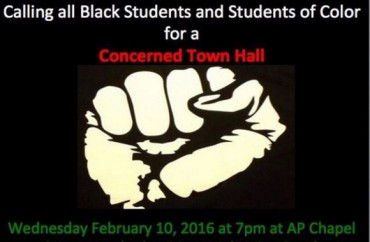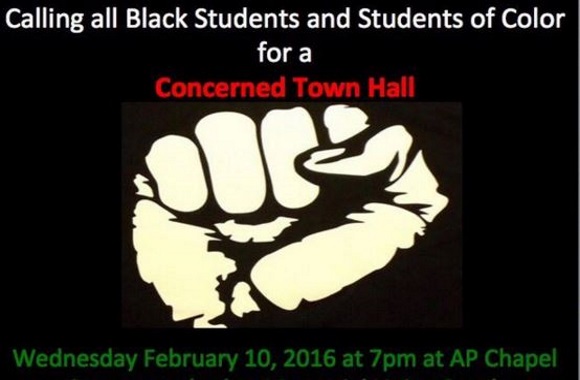 A "Concerned Town Hall" meeting advertised to "black students and students of color" at the University of Missouri on Wednesday turned out to be less-than-inclusive to white reporters attempting to cover the event.
The gathering was organized by Concerned Student 1950, which led protests on campus last fall accusing the institution of racism; it describes itself as seeking the "liberation of all BLACK collegiate students" on Twitter.
As the meeting began Wednesday night inside the A. P. Green Chapel at the public university, a student organizer announced: "If there are any reporters in here, can you please exit? That was my nice warning."
That according to a video of the event taken by Mark Schierbecker, a student at the school and freelance videographer who contributes to The College Fix.
His video shows a white male reporter from the mainstream city newspaper, The Columbia Tribune, introduced himself and say "we will definitely respect your privacy. Just curious, um – why are you guys afr — why are you guys asking us to leave? …"
"Um, just because I asked you to," came the reply. "We just want to discuss some things."
"Sure, OK, that's totally fine," the reporter replied, handing over his business card before he exited the chapel. Two white females also left the room.
Schierbecker, however, politely declined to leave, repeating "my personal preference is to stay."
"This is considered a limited public forum," Schierbecker told his peers. "It's open to the public, and especially to students of the university. I am here on assignment for a story and it is my personal preference to stay."
Concerned Student 1950 is a campus activism group that garnered national attention after its protests led to the resignation of top Mizzou leaders last fall. Schierbecker, a former contributor to The Maneater campus newspaper and one of two students who got into a confrontation with Professor Melissa Click during those protests arguing for the rights of student journalists to cover the protesters' tent city on campus, once again prompted anger and frustration from the group when he would not leave the chapel Wednesday night.
"Cuz this is once again, like, white people being privileged," one student said to him.
The back and forth between Schierbecker and the group continued, at times getting slightly heated. When one student explained her perspective, another interjected: "You don't give him any explanation because, like, that's not necessary."
In the video, Schierbecker promises to stow his camera if he could be assured that campus police would not intervene, reportedly over talk that officers had been called over a "bias incident."
"If MUPD [campus police] is not going to be a problem, I will put the camera away," Schierbecker said.
The town hall ended promptly within minutes of starting when students decided to relocate the forum to a more private location.
Like The College Fix on Facebook / Follow us on Twitter