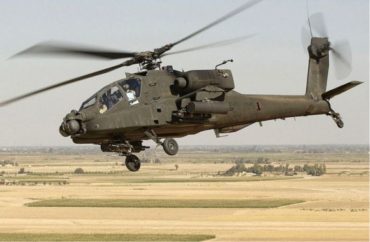 Researchers said 'malicious responses' point to broader problem of 'fascism' in America
Some students wrote that their gender was "Apache attack helicopter" in response to a survey about "engineering culture," which prompted accusations from the academics that "fascism" is on the rise in America.
The researchers wrote a paper that described their experiences while working on a survey about LGBT students in STEM in the Summer 2023 edition of the Bulletin of Applied Transgender Studies, housed out of Northwestern University.
Titled "Attack Helicopters and White Supremacy: Interesting Malicious Responses to an Online Questionnaire about Transgender Undergraduate Engineering and Computer Science Student Experiences," the paper reported on "individuals exercising discursive power in their language to target researchers and tamper with data."
The authors wrote that the "backlash" to the project "reflects characteristics of contemporary far-right or fascist political movements in the U.S., such as the synthesis of antisemitism with anti-Black and anti-feminist rhetorics."
About 25 percent of the "malicious responses" provided some airplane-related response to gender, including several who specifically identified as an "Apache helicopter." Identifying as an "attack helicopter" is a meme that goes back to at least 2014.
Other responses included a "V-22 Osprey" and a "F-16 fighter jet."
Some gender responses appeared to express frustration with the survey, such as "homophobic biggot, yes we exist," "Cis gender lizard king," and "F*cking white male."
Other mocking answers were much more detailed, with responses to the gender prompt that included "Quasi-Demi-poney; bankai-released state queercopter with a hint of faggotdrag lesbian and homosexual upside-down Frappuccino cake" and "on-cookie-cutter cis-furry dragonkin. Don't judge."
The scholars had sent the questionnaire link to over 3,000 email addresses associated with "department chairs, program administrators, and faculty at accredited engineering bachelor's degree-granting institutions," who could then forward the survey to undergrads.
The researchers fielded 723 responses. Of those, 299 normal responses came in from undergraduate students in engineering education, there were 374 invalid or incomplete responses, and 50 so-called malicious responders, or roughly 15 percent of the questionnaire's responses, the paper stated.
"Importantly, the themes and repetitions serve to mark shared references and signify an existing community with a shared political agenda and racist, trans-antagonistic, and online political meme commentary," the researchers wrote.
One respondent put "pansexual attack helicopter" as their gender. That same person also listed their race as "kangz."
Some of the other "malicious responses" included respondents saying their race was "Afro/Klingon-Asiatic Galapogayation" and their gender was "Aerosol."
Another listed their race as "Native American (Elizabeth Warren)" and put down "airplane" for the gender. The disability listed was "transgenderism" for this particular respondent. Multiple respondents listed being transgender as a disability.
Other "malicious respondents" listed "[t]here are only two genders" and "[p]edophile" as gender.
MORE: College class studies fascism from 'Mussolini to Trump'
All of the authors are affiliated with Oregon State University. The College Fix reached out to Finn Johnson, Michelle Bothwell, Qwo-Li Driskill and Devlin Montfort, some of the authors of this study, on July 11.
The Fix asked the authors how will this study improve students' learning in regards to engineering, in what ways has the current engineering culture presented barriers on women, people of color, and the LGBTQ+ community and what was their "anti fascist and trans/queer" process like to transform malicious response into results that can help the researchers.
The Fix sent a follow up email on July 13. No one has responded.
Some of the listed negative responses, as determined by the scholars, also included "female" "trans male" and "nonbinary queer." One person also wrote "male" for gender and "Puerto-Rican American" as their race.
The Fix emailed again on July 18 to ask for clarity on why answers including "female," "trans male" and "nonbinary queer" were considered malicious.
Other responses criticized the survey for "ruining" science.
"I really can't be bothered at this point. You're ruining genuine scientific disciplines here," one person wrote. "There are two genders, male and female. If an engineer creates a bolt and a nut but then whimsically labels them, then they're not that great of an engineer.''
The authors also included some statements that were targeting Jewish people, such as references to Adolf Hitler and his book "Mein Kampf."
The authors of the paper further framed the responses as part of fascism.
"Theories of fascism provide a framework to interpret the ways that dominant, oppressive, or reactionary ideologies regarding race, personhood, and gender become entrenched in community base building, exercises of power, and the State," the scholars wrote.
Furthermore, the responses were "just one small component of broader fascist base building in the United States which frequently targets trans individuals and student activists."
This is why scholars "must develop a robust analysis of how racist and fascist discourses are inseparable from transphobic discourses and approach malicious responses to research that focuses on marginalized people in engineering as central evidence in this research."
MORE: Professor made student 'uncomfortable' with open debate, gets fired
IMAGE: Andy Dunaway/US Army
Like The College Fix on Facebook / Follow us on Twitter