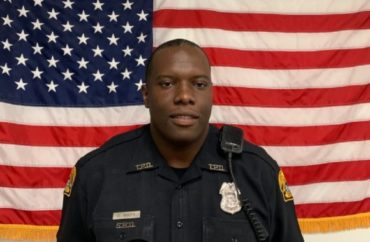 Police chief said he has to apply rules against racial slurs equally
Students and staff members at a Florida public high school recently rallied in support of a black campus police officer fired in early March for using the "N-word" two times in November 2020 and a variation of it when he arrested a suspended student.
School community members joined in support for school resource officer Delvin White (right) after Tampa police Chief Brian Dugan, who is white, fired him.
"I'm amazed by the support I've received and really want my job back so I can continue my work in the community," White said at the rally, according to a local paper that covered the controversy.
"The case that led to White's firing began when a supervisor, conducting what the department called a routine audit of body camera footage, stumbled upon a video that White apparently created by mistake," the Tampa Bay Times reported.
"In the video, White is driving away from campus after a varsity football game Nov 13. He can first be heard saying the n-word while driving. It's unclear to whom he's referring," the paper said.
MORE: Black security guard fired after he told students not to call him a 'n—a'
Immediately after, he called his wife on the phone and talked to her about "responsibility."
"You don't have all that responsibility….Well, some would say you have more responsibility. You manage a multimillion-dollar property, or just some ghetto n—a doesn't get shot or stabbed," White said, according to the paper, which did not include audio or video in its article.
White also used a variation on the N-word several times while arresting a student.
"You goin' to jail now, n—a," White told a suspended student who had returned to school to pick up a sibling and became "argumentative and increasingly agitated, yelling and cursing," according to the Times. "I told you, n—a, we ain't playin' with your ass," White told the student. The paper also did not include copies of the audio or video.
He also said "N—a, you trippin." The student also used that word during the encounter.
Cop defends his words, but gets fired
Disciplinary records reviewed by the paper said that White said he did not use the term in a derogatory way, but instead in a manner "commonly used in today's society as a means of shared culture and experiences among the African American community."
Those arguments convinced some of his peers in charge of recommending disciplinary action, but not Chief Dugan, who made the firing decision after receiving two opinions from a police review board.
Five fellow officers voted unanimously that the school cop violated the department's "professional responsibility and responsibility of enforcement" policies.
However, only two of the five officers agreed that White had violated policies on "discriminatory conduct" which explicitly include the use of derogatory language and slurs.
"People need to understand I can't fire a white officer and not fire a Black officer for saying that," Dugan said. "If you're going to go for restorative punishment for him, you have to do it for everyone in the future, no matter what color they are," the police chief said.
Dugan said he "has to be color blind" when applying sanctions.
"None of the parties involved in the incident remember the use of the word, took offense or filed a complaint. The word was said in a familiar manner as a way to relate to one another," White reiterated on a GoFundMe page he set up to raise money.
MORE: Africana Studies professor fired for using Tupac song title
IMAGE: GoFundMe
Like The College Fix on Facebook / Follow us on Twitter