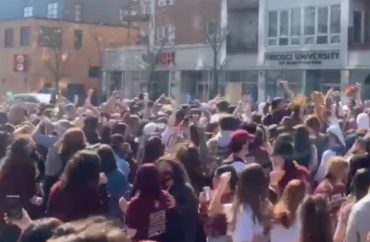 A slight return to normalcy is welcomed
For those who feel beat up by the COVID cops and the general doom and gloom of the virus panickers, I have some good news.
It turns out at least some college students are still normal and celebrated their team's victories this weekend in crowds with their friends and peers, flouting unscientific and burdensome COVID gathering rules.
"After a bracket-busting win against No. 1-seeded University of Illinois at Urbana-Champaign March 21, hundreds of Loyola fans took to the streets near the Lakeshore Campus to celebrate the victory," the student newspaper the Loyola Phoenix reported.
— Loyola Phoenix (@PhoenixLUC) March 21, 2021
The paper did say that many students were "not taking proper COVID precautions such as social distancing and wearing masks." Yeah, they'll be okay, thanks Loyola Phoenix! The number of positive tests is so low that it's hard to even see it on the school's dashboard.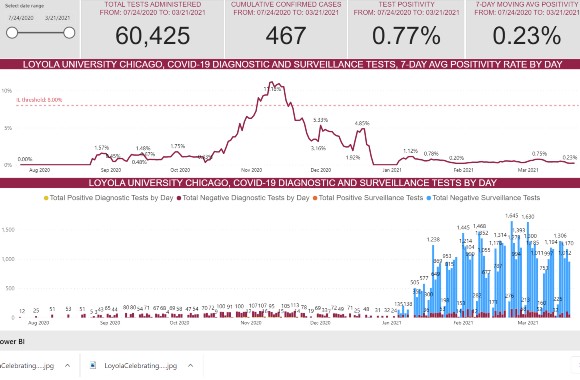 One student summed up what normal and well-adjusted students probably felt.
"It's really exciting to see campus spirit after a whole year of being on lockdown and feeling like you weren't part of a school," Kelsey Sherry told the campus paper. "[S]o this is so, so cool to see other people who are having the same emotions and feelings and campus pride as you."
Syracuse students celebrate, too
Meanwhile, students in another restrictive, soul-crushing state, New York, celebrated two March Madness victories.
"More than 100 people, many without masks, gathered at Castle Court on Sunday night," the Syracuse campus paper The Daily Orange reported. The celebration came after "victories from Syracuse University's men's and women's basketball teams in the NCAA Tournament."
The No. 11 seeded men's team defeated the No. 3 seeded West Virginia University team. The No. 8 seeded women's team defeated the No. 9 seeded South Dakota State University team.
The celebration, which some video shows included students walking around, appearing to maintain even the unscientific 6-foot distancing rule, still drew scolding from the university.
Dozens of people, several without masks, are dispersing down Comstock Avenue after a mass gathering at Castle Court. SPD blocked off Harrison Street shortly after. pic.twitter.com/JwBbl9a8CQ

— Maggie Hicks (she/her) (@maggie_hickss) March 22, 2021
"We appreciate our students are excited about our basketball teams' wins tonight in their respective NCAA tournaments," spokesperson Sarah Scalese said, according to the Orange. "However, now is not the time to let our guard down nor is it acceptable for our students to willfully disregard public health guidelines and the Stay Safe Pledge."
It is past time to "disregard" COVID rules that prevent students from enjoying their college experience.
MORE: I've tested negative for COVID 17 times. I'm forced to mask outside, alone
IMAGES: Loyola Phoenix/Twitter; Luc.edu
Like The College Fix on Facebook / Follow us on Twitter