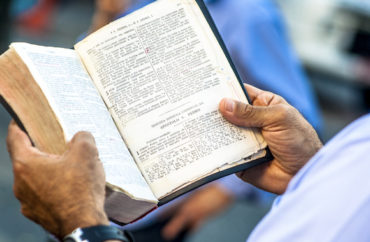 Police allegedly ignored 'physical and emotional safety' of students
Some students at Yale University were reportedly upset late last week when police failed to do anything about a street preacher shouting offensive slogans on campus. Several even reported a cop bringing the preacher a cup of coffee.
The preacher, identified by The Yale Daily News as "Brother Stephen," reportedly posted up on a street corner in the heart of Yale's campus, "shout[ing] derogatory statements at Yale students and New Haven high schoolers," according to the paper. These included incendiary remarks about Muslims, Jews and homosexuals.
Some students organized a counter-protest, playing music from speakers and shouting "gay is good" at the preacher. On a campus Facebook group, one student claimed the preacher was a "white supremacist" and that a "white police officer" had given him a cup of coffee and a pat on the back.
One other student told The Yale Daily News that she also saw a police officer bring the preacher coffee. She claimed the gesture, and the police officers' unwillingness to confront the preacher, was unacceptable:
[A]ccording to students, the preacher's diatribe was closer to a malicious attack, rather than a reasoned disagreement. [Student Hannah] Sachs said she was walking from her job at the Yale University Art Gallery on Thursday afternoon when she heard the man tell students that they are going to hell.

According to Sachs, the man then began "[gushing] vitriol" about Native American students. He also claimed that the University "hates Jesus" because "Jesus is opposed to lesbianism," Sachs said…

Sachs reported the preacher to the YPD on Thursday for hate speech and harassment and was informed that officers were en route, she said. She added that she saw one officer at the scene who was sitting in his patrol car. Like Goren, Sachs also said she spotted an officer offering the man a cup of coffee. The officers on Friday were "chatting jovially [and] seemingly uninterested" in the man's verbal harassment of passing students, Sachs added.

She argued that "there is a massive difference" between protecting free speech and supporting hate speech. The police officers' actions showed no regard for the physical and emotional safety of those impacted by hate speech, Sachs noted.

"It fits into a narrative of active antagonism through clear refusal to take action for all people of color, which impacts Yale students as well as New Haveners," Nash Keyes '21, who attended the Friday protest, said in an interview with the News.
A university spokesman said the school "has no knowledge of Yale Police officers engaging in such an activity."
MORE: University police department scraps citation issued to preacher for 'offending' students
IMAGE: Alf Ribeiro / Shutterstock.com
Like The College Fix on Facebook / Follow us on Twitter