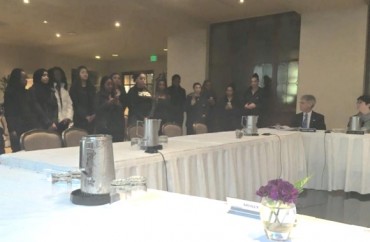 "Demand" lists from aggrieved college students continue to pop up on campuses around the country, the latest hailing from Western Washington University where students have clamored for a "College of Power and Liberation" for the study of "marginalized peoples."
Students stormed a board meeting last month to present their demand list, bemoaning a "legacy of colonialism" as they did so. The Student Assembly for Power and Liberation, the group leading the charge, says on Facebook the university is a "structure that has intentionally been built to uphold white supremacy and simultaneously push out historically marginalized identities."
"In order to meet the growing needs and demands for educational opportunities that emerge from and contribute to movements for social justice, especially those that reflect the histories and experiences of marginalized peoples, we call for the creation and full implementation of the College of Power and Liberation," the demand list states.
"…If Western's administration wants to claim that they care about social justice, they need to give resources and power to those who are impacted by violent injustices and design the kind of education that will meet our needs and give us the tools to transform unjust social relationships," the demand list adds. In petition form, it has collected 445 signatures online as of March 7.
RELATED: Student protests against 'systemic racism' hit 72 colleges and counting
Writing in The Daily Beast, Robby Soave points out the College of Power and Liberation "would essentially train students to become social justice warriors (a term often applied derogatorily by critics of leftism that nevertheless seems appropriate here)."
Soave adds:
WWU must meet the needs of this new "College of Power and Liberation" by immediately hiring 10 faculty members—subject to the approval of student-activists. Finding the money to do all this is solely the responsibility of WWU's administration, "whose accountability to students should be expressed through their fervent advocacy for students' needs at both the local and state levels," according to the activists, who want an extra $50,000 to throw a kick-off party for the new college. Another $45,000 will go toward paying students to do "de-colonial work on campus," whatever that means.

Activists have also demanded the creation of an Office for Social Transformation, which would employ 15 students—young Robespierres in training—for the purposes of monitoring "racist, anti-black, transphobic, cissexist, misogynistic, ableist, homophobic, Islamophobic, and otherwise oppressive behavior on campus." (Anti-Semitism, one notes, is curiously omitted.) These students will be granted terrifying powers to discipline faculty members who commit microaggressions. Professors—even tenured professors—can and will be placed under investigation if they are accused of maintaining insufficiently safe spaces within their classrooms.

The third serious demand is for the creation of new residence halls geared around specific cultural identities. … The list of demands ends with a lengthy denunciation of WWU's marginalization of "hxstorically oppressed students."
Thankfully, the university president was not quick to cave to the demands. The Bellingham Herald reports:
In response, WWU President Bruce Shepard sent the Associated Students a letter March 1 saying many of the demands needed to go through established university procedures from the bottom up, not top down. Adding a college and curriculum needs to start with committees of the Faculty Senate, he wrote. He also pointed out that the ideas lacked ways to fund them and that some would violate union contracts, university policies and federal law.

The group criticized Shepard's response for putting the burden of changes on students. "Using highly politicized rhetoric, he attempted to claim that hxstorically (sic) marginalized students are getting their needs met by his 'Task Forces', the very Task Forces we have clearly named as not only ineffective, but also enforcers of the same forms of oppression manifested in the University," the group posted on its Facebook page.
Like The College Fix on Facebook / Follow us on Twitter